The blank family tree form is intended to be used as a simple family tree that can be used for a project or as collection of pages containing various families for a family history binder or genealogy record.
Space is provided to enter family name, file name or individual record numbers for individuals at the top of the page to identify the line of pedigree.
At the bottom space is provided to enter additional genealogical information. This printable form is provided in a .pdf file format.
The top of the family tree form is intended for the youngest person in the group. Below, the diagram splits to represent that individual's parents and ancestor lineage.
At the bottom, the parent group is split into four grandparents, which should be completed to show the grandparents of the family member at the top.
Note: This blank family tree form has been updated to allow you to type into the form fields.
Download Blank Family Tree Form – PDF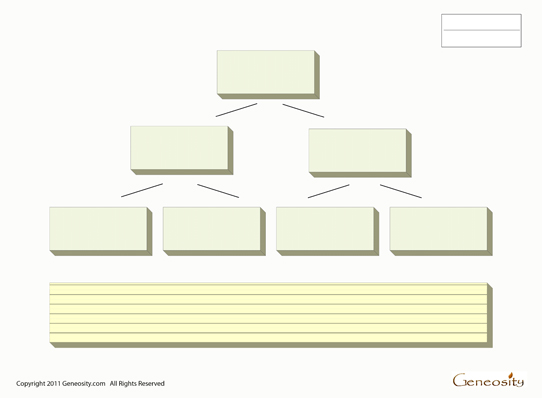 How do I fill out a family tree form?
Filling out a family tree form is a great way to document your family history and learn more about your ancestors. Here is a step-by-step guide to help you get started: 1. Gather information: Start by gathering as much genealogy information as you can about your family. This includes names, dates, places of birth, marriage, and death, and any other details you can find. You may need to contact family members or search online for records. In this basic form you'll list the individual name at top followed by their parents and then their grandparents.
How do I find my ancestors?
Finding your ancestors can be a daunting task, but it is possible with some patience and research. The first step is to start with yourself and work your way back. Gather as much information as you can about your parents, grandparents, and great-grandparents. This includes their full names, dates of birth, marriage, and death, as well as any other information you can find. Once you have the basic information, you can start searching for additional records online. A highly recommended source is Familysearch.org which is free and includes a wealth of information needed in searching for relatives. Here you'll be able to find information connecting ancestors including their roots, children, descendants, locations and additional relatives. Family Search highly focused ways to conduct genealogy research and shouldn't be overlooked!
How do I start a family tree?
Starting with a family tree form is a great way to learn more about your family history and to connect with your relatives. Here are some steps to get you started: Gather general information and search through family records and heirlooms. Next, begin talking to your relatives and asking them questions about your genealogy and family. Often your most elder relatives will have the most information. Ask about their parents, grandparents, and great-grandparents. Write down the names, birth dates, and other information that you learn. Begin to chart the family tree and progress from there.
A more detailed family tree form can be found here. This family tree template is expanded to include space for statistical information including birth, marriage, death and the locations associated with family members. Printable family tree templates immediately become a family heirloom that won't be overlooked by future generations.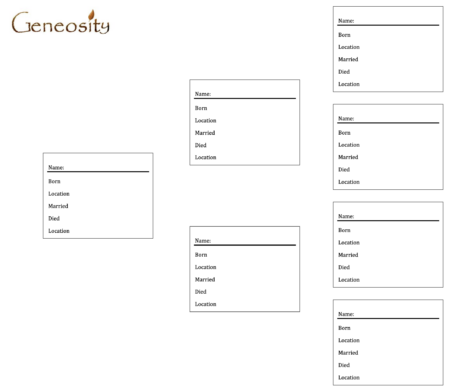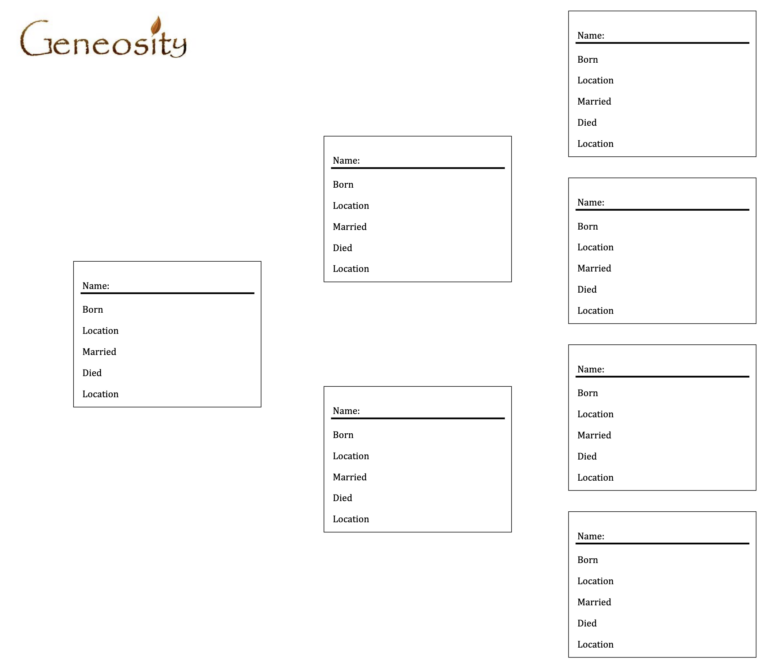 Who is included in your family tree?
A family tree is quite extensive and can include many generations of relatives. A family tree record usually begins with the individual or family of focus, and builds backward in time to include the family lineage or pedigree. Each individual has two biological parents, four grandparents, eight great-grandparents and sixteen great-great-grandparents. From there, the tree commonly branches out to include the siblings and then the cousins of family members included in the research.
Why include siblings and cousins of my ancestors in genealogy research?
Siblings most importantly will assist in connecting vital genealogy information to deceased ancestors. In a census you'll be able to help identify that you have the correct family you're looking for. If you know the names of family siblings sharing the same surname you can look for the brothers and sisters of an individual in other records to help locate the family. You'll also have an easier time finding death records for your ancestors if you list all of their children. It's hard to know which family member may have been the family contact or witness of a significant event.
Cousins and other relatives in your family tree provide numerous, additional individuals who may have records pointing back to your genealogical relatives. Sometimes a distant relative will have already researched your branch of the family tree and solved some of your research problems for you.
Find more genealogy forms here.