The genealogy timeline chart is great for documenting a family tree unit in a form that is is simple to understand. A genealogy timeline is a visual representation of a family's history, typically showing the birth, marriage, and death dates of each generation. This is a helpful tool for tracing family history, as it can provide insight into the lives of ancestors. Users of our printable form especially enjoy the flexibility to add events on a timeline that a typical genealogy timeline chart doesn't include.
A genealogy timeline typically begins with the oldest known ancestor of the given family, and works its way down descendants to the present day.
Three generations are represented in this form, where you also can identify family events over a 100-year span.
Each sheet can be used for a specific family name, group and tree. This allows you to focus on events that occur for 3 direct generations that include parents, grandparents and children.
Tip: Use a different sheet for each husband and wife you want to track to avoid running out of room. The tall columns are designed to document major family events that occurred over the last 150 years. Included in the PDF form are pre-filled date ranges from 1850 through to 1950.
Download Family Data Sheet and Timeline Chart – PDF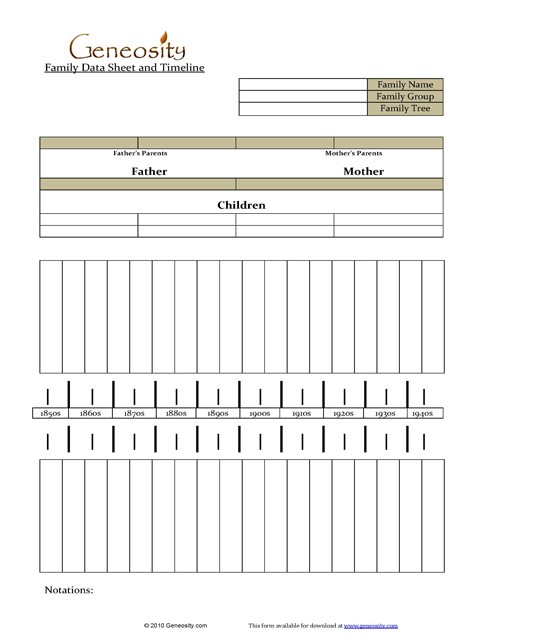 A premium version of this form is available with electronic form fields (along with 16 other forms). The premium version allows you to type in data into a PDF form to save, share and print.
What are the benefits of creating a genealogy timeline?
Genealogy timelines are a visual representation of a person's ancestors, tracing their lineage back through time. These can be used to identify family connections and to track the migration of family members from one location to another and other events.
Creating a printed, visual reference like this family timeline can be a great tool for anyone researching or sharing information pertaining to their family history. A timeline can help to organize the information you have collected and provide a visual representation of your family's history. Parents, children and descendants are the primary focus of our form.
One of the primary benefits of creating a genealogy timeline is that it can help to make sense of the vast amount of information that can be collected during genealogical research. For documenting highly detailed information on an individual we recommend the Critical Document Record.
Genealogy timelines can be created using a variety of software programs, such as Family Tree Maker, Ancestry.com, and Geni.com.
Other tips for creating a successful genealogy timeline
1. Start by gathering all the information you can about your family. This includes birth and death dates, marriage dates, and any other important events. Make sure to include as much detail as possible, such as the names of the people involved and the locations of the events.
2. Create a timeline template using this form. This will help you organize your information and make it easier to create a timeline.
3. Research your family history. Use online resources, such as Ancestry.