Maintain consistent genealogy records of family groups using a family group form. This professional quality genealogy form is created to document each member of a family unit. This form lets you document critical details of a family members life such as birth, baptism, marriage, death and burial information. Ancestors and their family records including siblings can provide far more research sources than tracing a family tree by direct descendant.
The top section is used for data of the mother and father with a space for children below. The very bottom provides a few lines to make additional notations.
Download Family Group Form PDF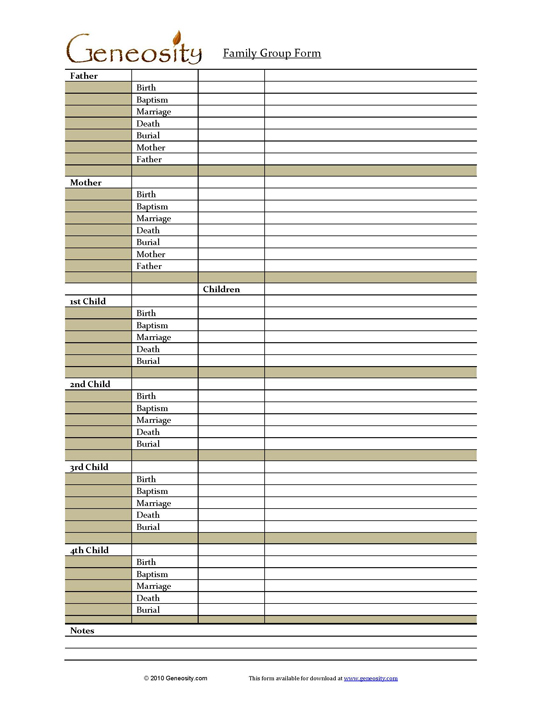 The column headings are open as each specific event may have various types of data. For example, you may want to put birth dates in one column and follow with the birth location in the next column. A similar format can be used for any of the other events. For burial you may want to add the cemetery or funeral location.
Tip: Up to 10 children can be documented on this family group form. If the family has more than this many family members, you may print another copy and staple or paper clip these forms together. It's a good idea to copy the mother and father information and write down the number of total pages in the notes section.
You'll find more helpful fillable and printable genealogy research charts in our Research Forms section.
Interesting family group statistics:
According to the US Census Bureau, the average size of a family group is 3.14 people.
The most common family group is two married parents and two children, accounting for 28.2% of all family groups.
The second most common family group obviously is a single parent with one or more children, accounting for 17.2% of all family group forms.
According to the US Census Bureau, the median age of a family group is 37.8 years.
In 2020, the average household size in the US was 2.53 people.
According to the US Census Bureau, the percentage of married couples with children under 18 living in the same household was 40.3%.
In 2020, the percentage of single parent households with children under 18 living in the same household was 28.7%.
About this form:
What is a genealogy family group form?
A genealogy family group form is a document used to record information about a family. It is often used by genealogists and family historians to organize and track information about a particular family. The form typically includes the names, birth dates, and other vital information of the family members, as well as the names of their parents, children, and sometimes other relatives.
There are varying formats for family group forms, and the most common include areas for the types of data mentioned above. Document full names, name variants and nicknames to be sure of future matches with other sources. Include and attach copies of printable forms and documents that support your family group data. Also identify sources also for all family history and lineage information.