"Ouch! That genealogy website subscription is really expensive! Do I really want to pay that just to find out where great-grandpa came from?"
If you are beginning your search for your ancestors, you may have asked yourself this question. Genealogy websites give researchers access to historical records from all over the world. What you once had to search for in dusty books and microfilms are now at your fingertips online – for a price. Don't give up just yet, however.
Internet Genealogy Can Be Totally Free if You Know Where to Look
There are some very good genealogy resources online that are absolutely free. This article will discuss a few of the best free genealogy websites and what you can find at each site.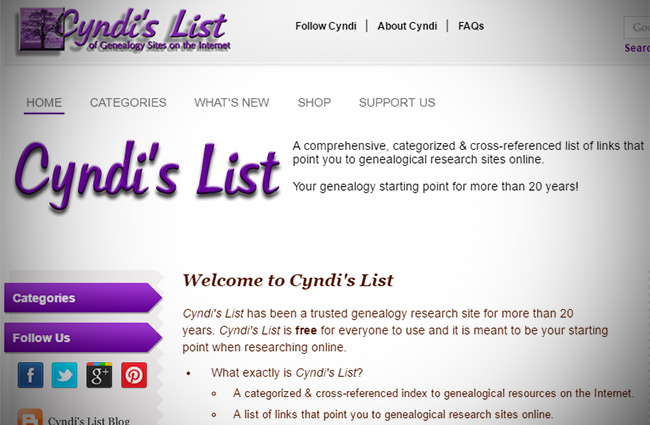 You will not find your ancestors on Cyndi's List. What you will find is a comprehensive list of genealogy websites, alphabetized and indexed according to category. Founded in 1996 by Cyndi Howell of Puyallup, Washington, Cyndi's list provides a database of over 300,000 genealogy links.
All of the links on the site are categorized and cross referenced, so it is easy to find websites that might have the information you are looking for. Cyndi includes all genealogy websites in her database, so some of the links offer information for free and some require a subscription. Be sure to read the terms of each website you visit.
Cyndi's List is a great place to start if you are new to genealogy or if you are not sure that the information you need exists online. I have used Cyndi's List in the past to find obscure websites that have actually helped me break through those genealogy "dead ends".
To use Cyndi's List, enter the type of record you are looking for, the country or region you want to research, or the specific record collection you want to locate in the search bar. The results of the search will give you a list of categories. From there you can click the link of the category that best fits your search, then scroll through the list of links that may contain the information you are looking for. If you don't really know what to search for or if you prefer to browse categories, you can do so from the Cyndi's List home page. Just click on the first letter of the category you wish to browse.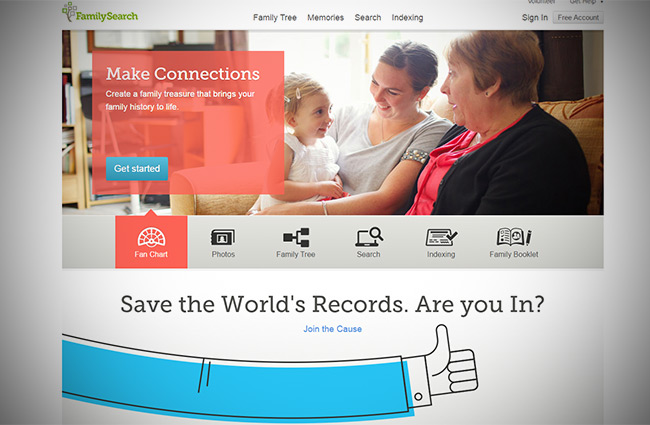 FamilySearch.org is an online database of The Church of Jesus Christ of Latter-Day Saints, also known as the Mormon Church. Abbreviated LDS, the church's beliefs and doctrines include requiring members to research their ancestors. As a result, the church founded the Genealogical Society of Utah and began accumulating genealogical records from all over the world in 1938. The collection is now the world's largest and includes over 3.5 billion images stored on microfilm, microfiche, and in digital files.
The Genealogical Society of Utah is now called FamilySearch and they offer access to historical records, family trees, and many other resources online for free. FamilySearch is the most comprehensive free genealogy site currently on the internet and users can find many records from many different countries here.
FamilySearch is one of the most frequently update free genealogy sites and continues to work to digitize records that are currently stored on microfilm and new records are added periodically, so if you don't find what you are looking for, check back later.
You do not need to be a member of the LDS Church to use FamilySearch.org. It is helpful to sign up for a free account so that you can utilize all the functions of the site.
Another service that FamilySearch.org offers is access to microfilms that are not viewable on the website, but are available by loan to a local LDS Family History Center. A nominal fee applies here to cover mailing costs, but that fee allows you access to the records contained on the microfilm for a number of weeks. You do need to go to a local LDS Family History Center to view the records, so check for the one closest to you before you order any films.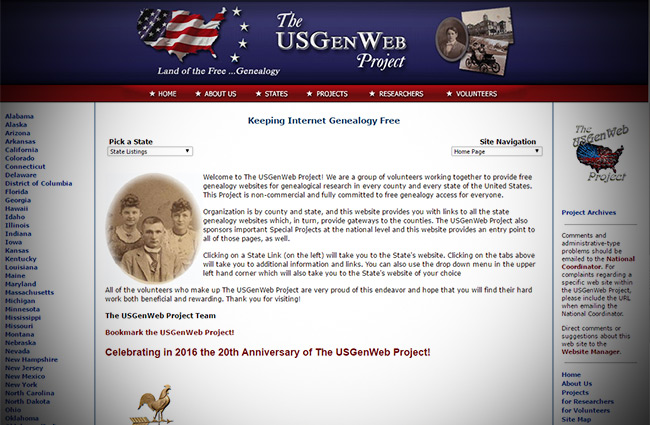 The GenWeb Projects
The GenWeb Projects were founded in 1996 by volunteers who vowed to keep genealogy free on the internet. These projects are non-profit, non-commercial, and run entirely by volunteers who commit their time and resources to transcribing or uploading records to the internet. This group of free genealogy sites consist of three main websites:
The US GenWeb Project – this website provides access to records and resources in the United States. The site organized by state and county.
The Canada GenWeb Project – this website includes records and resources in Canada and is organized by province and county.
The World GenWeb Project – access to records from all other countries can be found here. The site is organized by region and country.
Since the GenWeb projects rely on volunteers to maintain the databases, the records available through these websites are not consistent from area to area. The quality and amount of information you can locate is entirely dependent on how much work the volunteers responsible for the area put into the website. Some areas do not have any information, while others have many, many different record transcriptions or images. This will differ from county to county in a single state or province and from country to country on the World GenWeb site. It is worth checking the area you want to search, however, because some volunteers have put literally thousands of hours into adding information to these websites.
The GenWeb projects also include special records transcriptions projects that recruit individuals to submit individual or small groups of records in an effort to compile a larger database. The US and Canada GenWeb sites have compiled large databases of tombstone transcriptions, family bibles, and obituaries through these efforts.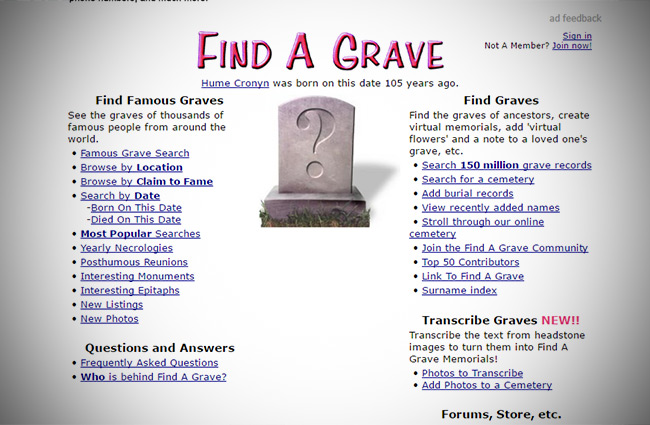 Find A Grave offers a huge database of 149 million tombstone transcriptions and photographs from all over the world. The site was founded in 1995 by Jim Tipton of Salt Lake City, Utah, to feed his unusual hobby of visiting the graves of famous people. The database offered on the site has grown to the size it is now through individual contributions of transcriptions and photographs from over a million people. Jim continues to administer and maintain the site with help from a handful of others.
To locate records on Find A Grave, type a specific name in the search function. You can narrow the search by birth and death dates and by cemetery location. If you can't find who you are looking for, you can also browse cemeteries by name, US county, or country.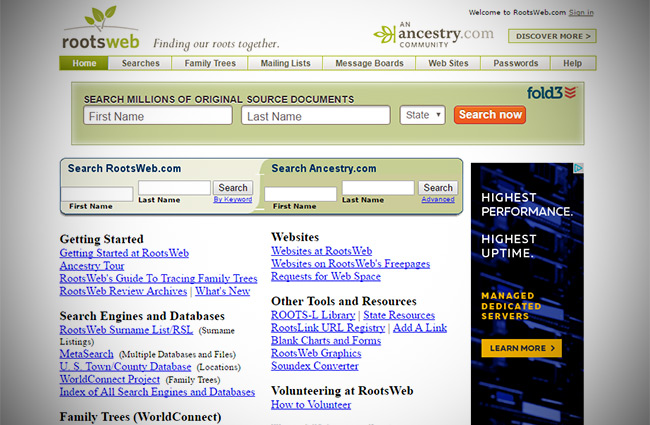 Founded by Brian Leverich and Karen Issacson in 1997, Rootsweb is one of the free genealogy sites that depended on the work of volunteers and donations to operate. The site grew rapidly but could not function without an outside funding source, so the site merged with Ancestry.com in 2000. At the time Ancestry.com promised to keep Rootsweb free and they have upheld this promise to the present day.
Rootsweb is probably best known for its message boards, which claim to be the internet's largest online genealogy community. Consisting of 198,000 message boards, researchers can post messages to other researchers here by surname, location or topic. You can also use the search function to search over 25 million posts. Some of the posts of the message boards date back to the 1990s, so make sure you check the date of an existing post before replying to a thread, as the person who posted it may no longer be active on the site.
Rootsweb also offers WorldConnect, a database of family trees posted by individual researchers. This database includes over 640 million names. You can search the database by surname or keyword and you can upload your own family tree. Rootsweb does require that you sign up for a free account to use the message board and WorldConnect functions.
Other Free Genealogy Websites
There are many more free websites that allow you to search for specific records. Here are a few more useful sites:
The Statue of Liberty-Ellis Island Foundation, Inc. – this site offers a search function that allows you to search the site's database of passenger lists, including over 51 million passenger records.
The U.S. Department of the Interior, Bureau of Land Management – the bureau offers a searchable database of General Land Office records, including land patents, surveys and field notes, land status records, and control document index records. You can print copies of original records for free. Certified copies can also be ordered through the website for a fee.
Library and Archives Canada – the official archives site for the government of Canada, this website offers information and searchable databases for many Canadian records, including vital, census, military, immigration, and land records, as well as newspapers and other resources.
In addition to these free genealogy sites, many other local libraries and genealogical societies offer online records and resources, and many of these are free. Do an online search of genealogical records in the area where your ancestors lived to find out if any online records are available through local sources.