How to Date Photos Using the Photographers
This can at least give a general date or time period for the photo. Also it helps when the photographers name, studio and address is on it. Most cabinet cards can have a beginning date of 1860.
They are larger than CDV's and were placed on heavy card stock. These looked good sitting on the old dresser or maybe a little table. The cards can be found through 1900 when the photo postcard was introduced.
This would be your year range for finding a date on your photo.
Next look up the photographer and or studio. Some photographers did not stay in business very long. You can search newspapers and directories to find addresses and some dates.
Swartz & Freeman Photographers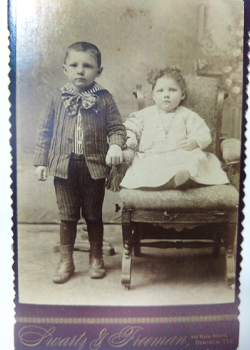 This one is from Denison, Texas, the address of the studio was 229 Main Street. By searching through newspapers.com, I found this company traveled to other cities, stayed for a few days, then moved on to the next.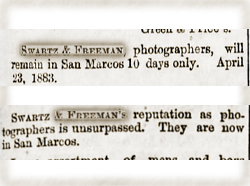 I thought this was pretty cool. If you had a photo of a family member and you knew they lived close to San Marcos and the photo had this stamp on it then the photo may have been taken on one of the dates mentioned above. The photographers were there starting April 23, 1883 and the other add was dated May 3rd, 1883.
James Lee Goben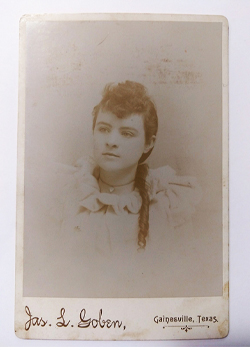 This one is from Gainesville, Texas. Maybe I can find something on the photographer. This photographer is the son to PF Goben on the next photograph. His father was a photographer his whole life.
James Lee is living in Gainesville, Texas and working as a photographer in 1887 until his death in 1928. He also had a brother named Edgar L. that started the Gainesville business with him. Gainesville and Sherman, Texas are only around thirty miles apart. There are pictures of James and his family on FindAGrave at the following link.
https://www.findagrave.com/memorial/95951923
Perry Goben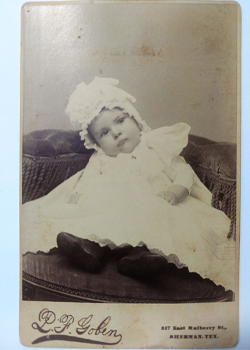 P F Goben's address was 317 East Mulberry Street, Sherman, Texas. I love when the photography studio has the address and especially the city stamped on the photo. At least we know this little cutie was from around there.
It looks like this photographer lived here most of his life. He is listed in directories as a photographer for the dates 1901 through at least up to 1914. He was living in town in 1896 but it did not say anything about being a photographer at that time. (This must have been a home listing instead of his photography studio.)
Oh, I just found a directory listing for 1876 and it has him as a photographer in Sherman but at a different address. That is awesome! The only bad thing is that if you have a photo if his, the date span is now 1876 through 1914.
So, looking at some other information I find that PF Goben is Perry F Goben. In 1900 he was 63 years old and was working as a photographer on the census (Ancestry). His wife's name was Charity and the had two children at home at the time.
The last time I found him working was in 1914. He would have been 77 years of age at that point. He passed away on November 30, 1916. R.I.P. dear sir, what a career!
Perry Frederick Goben
I just found another census record that was earlier, 1880 and it list James L Goben as his son along with a few more siblings. That means the photo above this one is his son also working as a photographer.
Snell's Studio
Other Photographers listed working and having studios in Sherman, Texas in 1910 were A C D Miller at 117 1/2 W Houston, Snell's Photo Studio at 129 1/2 N Travis, and G R Wear at 149 N Travis.
Other Texas photographers I found while looking through the Texas papers are as follows.
Austin, Texas from the American-Statesman on the 14th of June 1894 had a cabinet photo place listed as the Railroad Photo Car. Only 1.25 per dozen and you got a life size crayon free. That is a big crayon. It appears that several different photographers worked at this location. There was one ad stating that two extra artist had arrived from St. Louis to help finish the rush.
S. B. Hill
In the Austin American-Statesman on March 21, 1813 another photographer is listed at S. B. Hill – who gives especial care to plaque photos.
Mark's Photographs
In the same paper is Mark's Photographs ad is "A good photograph, combining all the requisites of a finished picture and a perfect likeness, is not to be valued by dollars and cents. Many can attest this to whom deceased friends have left such treasures to comfort them. At Mark's gallery, No. 706 Congress Avenue, east side, pictures are made to please the most fastidious, both plain and in water colors." Ok the water color thing surprises me for the year 1883.
There are several ads talking about the new latest thing being the plaque photos.
Willis & Coleman
The Eagle of Bryan, Texas newspaper for August 7, 1900 has a studio listed of Willis and Coleman from Bryan, Texas doing Platino Photos. "To introduce our large photos we will for the next 30 days give with each of our $3.50 Platino Photos, one 11×14 oval photo mounted on a nice 18×20 card. As photography is now the only accepted art to produce."
Justus Zahn – Rose & Zahn
Galveston Daily, Texas for July 24, 1888 had a Justus Zahn, successor of Rose and Zahn selling cabinet card photos. Another one for Galveston in Rosk & Schmedling at what looked like 170 Tremont Street.
Dean's Photography
Dean's also had an ad in the paper stating he was doing Cabinet photos on the Corner Market and Center Streets. This was the Galveston paper on May 20, 1886. So he has traveled here and Fort Worth.
Deane's cabinet photos 610 Main Street, Fort Worth, Texas – one dozen for three dollars. There were several ads in the Fort Worth Daily Gazette for December 1895. Deans's is now in a Waco Daily Examiner, Texas on the 24th of December 1885. He is again back in Fort Worth on January 3rd, 1896. Again in Fort Worth on 23 October 1895.
I have made several attempts at finding the photographers and it seems that I have had better luck at just using the word photo. Some times the photographers name brings them up but using the word photographer, or photography was not helping much. It brought up to much other stuff and different articles.
Krueger's Fine Art Photos
On January 6, 1895 in the Fort Worth Daily Gazette, there is an ad for Krueger's Fine Art Photos. It states " Awarded nine medals at American Inst., New York Centennial medal, Philadelphia; Vienna Exposition First Prize (I think it states $300 – hard to read), Cincinnati 1884, and all State Fairs." The address for the business is the corner of 6th and Main in the Walker Building.
Swartz's Fine Photographs
Another one for Fort Worth is Swartz's Fine Photographs, on the former of 5th and Houston. From the Fort Worth Daily October 7, 1890.
Huddleston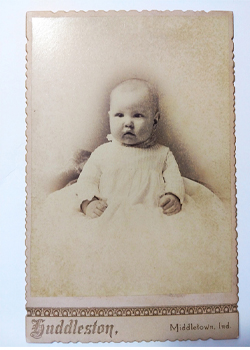 Photography studio – huddleston, Middletown, Indiana
So I finally found a 1900 census listing for C M Huddleston living in Henry Indiana which connects to all the information below so this is the same photographer. I was unsure at first because of the lower case H in the name and not finding Middletown. I guess this was just a change made over the years. and I believe this would have been before the photo below date wise.
Cephas M Huddleston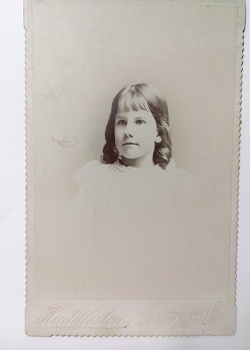 Cephas M Huddleston, New Castle, Indiana. Cephas and his wife Carolyn worked together and moved around taking photos in different towns like Goben from above. It seems like a normal thing for the photographers to stay about two weeks at each place while taking photos and then move on to the next venture.
FindAGrave has C M Huddleston born October 17, 1832 to William Huddleston and Susana Osborn. According to census records, his photography career spanned between 1870 through approximately 1910 or 1911.
In 1870 the census had him listed as a photographer in Union, Indiana. In the 1880 census as a photographer for Centerville, IA. June 19, 1890 there is a location of the Spiceland photographer being in Cambridge City. November 13, 1890 the Cambridge City Tribune says C M Huddleston is at his cottage Gallery. In July of 1891, there is an article about C M Huddleston will be working in New Castle, IN.
There are articles stating they made many trips to Ohio, so there is a possibility that they also took photos in that state as well. Newspapers included The Evening Journal in Hamilton Ohio 1891, The Indianapolis Journal in Indiana, The Evening Journal in 1892, The Cambridge city Tribune in 1900,and The Palladium Item and Richmond Item in 1904-06.
Mr. Huddleston died on the 5th of April 1914. So this photographer has a span of forty to forty one years the photo could have been taken in.
Newspaper sources are from newspaper.com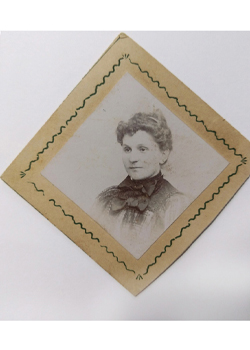 This is a little 2 by 2 card. I have some like this in my family photos so I'm curious about the photographers. But there is no information on the card itself. So maybe during this research hunt I will be able to find something to help date some of my photos.
George H. Walker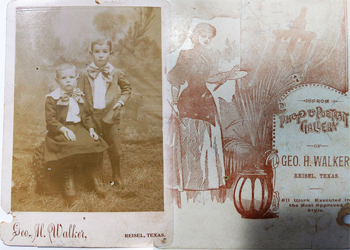 Will Strange, Ernest and Leslie Strange
This one has the names on the back as well. Meet Mrs. Will Stranges' Children Ernest and Leslie Strange.
This one has a beautiful back printed on it. The photographer studio was Geo. W. Walker Photo & Portrait Gallery in Riesel, Texas. I have never heard of this town but it is close to Waco. It looked like a very small town on the map. I may never find much on him at all. Using the newspapers I have not found one advertisement at all so I will see what I can get from the census.
Bingo, found him and he is a druggist and has a Photo Shop on the 1910 census but this was in Galveston. He is 40 years old and is single. A 1905 directory has him as a photo business operator. I guess he may have lived in Riesel before 1910 and must have moved to find more work.
Another directory find of 1901 in Galveston again. As you can see you will not find clues in order by date, this is how they were coming up. There is another George H Walker listed as well and I had to find out more information so I could keep them separate. The photographer was born about 1870 in Illinois.
Any time you find a fact go back to your search and add it in so you can eliminate some of the other listings and find your information faster.
That is all I could find so from 1901 through maybe 1920. If I found the correct person he has gotten married and moved to Florida. And then in 1930 census I could not find him at all. So his possible photography career is 1901 through 1920. That is not very long and makes me wonder what happened to him.
W. M. Wade Photographer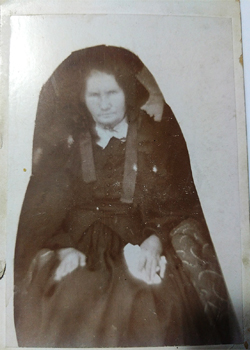 W. M. Wade Photographer Oxford, Arkansas Photo of Mrs. M. F. Hall
While looking for Wade I did find ads in a Pittsburg, Kansas newspaper on December 18, 1902. The ads were for small photos and a free button with each dozen photos. All kinds of photo buttons and jewelry for ten cents up at Wades, 5177 1/2 North Broadway. I am unsure if this is the same Wade that is Photographer on my photo I'm searching for or not at this point! But this is all I have been able to find right now. It just has a stamp on the back of the photo. This may be one for more work.
Other photographers found while searching the newspapers were as follows.
Bill Wade
Bill Wade Master of photography in Jacksonville, Illinois 1964
Marriage photos Browntone Portraits. He also listed wedding anniversaries in his as.
Reiss Studio
Reiss Studio at E26 East Broadway Alton, Illinois 1941.
Joseph N. Strickmaker Photographer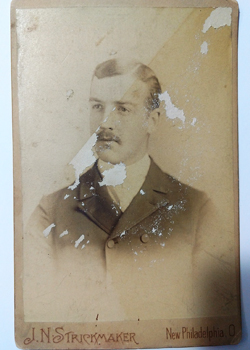 Joseph N. Strickmaker in 1875 had a photography business and his address was 9 N Broadway in Zanesville, Ohio. This is listed in the directories under Ancestry.com. It looks like he was born about 1842 and in 1900 he is listed at age 57, married and doing photography work. It seems he passed in 1913 so his photography career will only span approximately 25 to 30 years. He was not listed as doing photography in the 1910 census.
Watch for this photo in another tip section. I see several people put the photos in zip bags. Only one per bag or wrap in plastic wrap. I seems a good deal of the old photos like this can just rub off like this one has. Especially if another photo is sliding back and forth across them. So be careful of the ink rubbing off and protect your photos.
Watch for more photographer dating like this I will try to work on different states and different photographers every now and then. Remember there are many places to look for information on you family tree. Just dig in and start!
Here are a few other sites that have photos listed by cities and names on photos that I found while looking for some of my family photos…
http://www.slicesoftime.net/Indexes/Photographer/TX-p.html
https://lostgallery.blogspot.com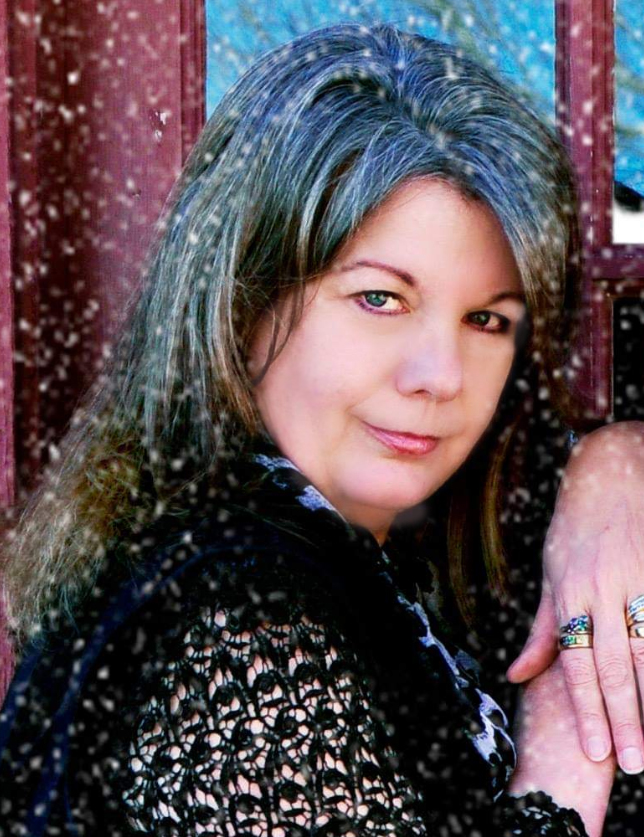 Jena spends her time researching her family tree as well as others. She travels, visits cemeteries and other historical places while gathering and collecting old photos, albums, scrapbooks and other pieces of memorable history to study and share. Jena is a retired teacher, has served as president with her local Historical Society, and maintains a community history page. She also loves photographing historical reenactments, cemeteries and historical places.