Migration Help on Surnames Can Help you Break Through Some Brick Walls
If you have never been to this page of Ancestry.com, this is worth a look.
https://www.ancestry.com/learn/facts
Enter your surname name when you get to the page. You can find a lot of interesting facts. I suggest looking at the different census years and the migration placements where your family moved over the years.
Slide the bar under the map and watch the families move and spread out. You will see that your family moved over time during the different census years.
It also shows you the number of families living in those states. This will be the recorded families from the census year you have chosen on the bar.
Check it Out
Be sure and look at the top of the page and see all of the name variations.
You may need to check some of these as you look through documents and see if the name changed. This can be a reason why you may have had trouble finding your family.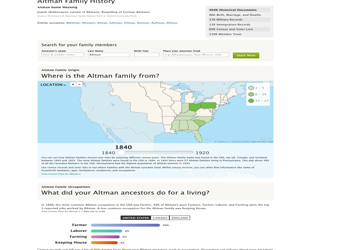 The U.S. census and voter list were used to create and show where everyone lived during those years. Other things you can see are the heads of household and all the family members as well as their ages, birthplaces, where they lived and what they did for work.
This will be helpful in some areas of your search and will make a great photo like the one above to add to your family history to show your children or grandchildren. This could make a great summer activity with those kids! Get the kids involved in genealogy. Almost every year school kids have to do a project on their family.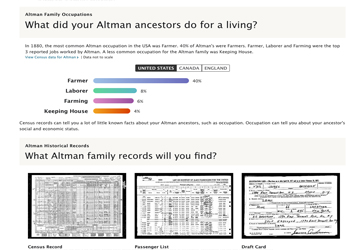 Look Around
You can take your mouse and hover over each state, change the year and try it again. Watch all the changes that take place. Click on the occupation boxes and view the occupation changes take place for the different countries. Scroll down the page and see other information like the average lifespan compared to the rest of the population.
If you want to look up another surname then you can go the bottom of the page. Otherwise, you can use the back arrow button. If you use any of the other areas it will take you into the regular search area of Ancestry.com.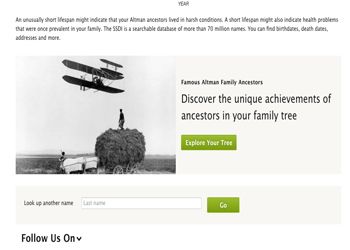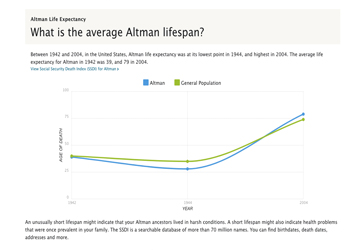 Many Walls to Break Through
This is a fun tool, but we all encounter brick walls. So this tool can be helpful if you are stuck and having trouble finding where the family moved.
The migration tool will give you a area or a different place to look for them.
If you are stuck on one individual name, try using a different sibling, especially the men. If that doesn't work back up to their parents and work there.
You will have to spread out to make the connection and find out what happen. Use newspaper to see if there is an article about a death or other facts. There are many variables that can cause you to lose the trail. Just keep looking!
Name Variations
You may need to look at different variations in the name. It might surprise you how the same surname was spelled differently for a period of time. A few reasons why names changed:
People moved and changed them, sometimes by accident
People wrote it down wrong in the census
Education levels had an impact
Some family members were trying to hide from other people.
When trying to break through that wall and find family be careful, check your facts and always take notes about where you find your data.
Be careful, different family units will be there, be sure to find the exact connection before using any information and adding it to your tree.
Explore the page and enjoy some of the different parts of information you find.
And as always, enjoy the hunt!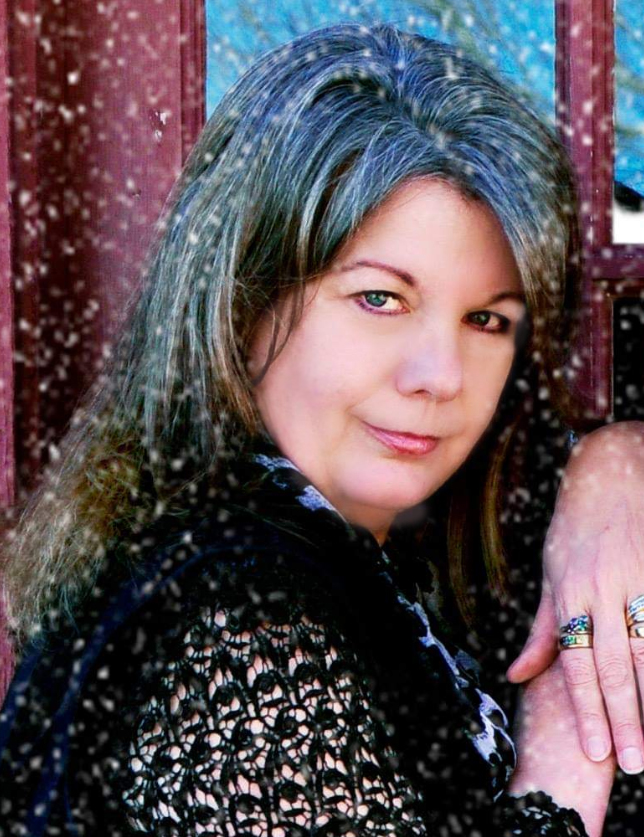 Jena spends her time researching her family tree as well as others. She travels, visits cemeteries and other historical places while gathering and collecting old photos, albums, scrapbooks and other pieces of memorable history to study and share. Jena is a retired teacher, has served as president with her local Historical Society, and maintains a community history page. She also loves photographing historical reenactments, cemeteries and historical places.