Digging into the history of a soldier
US Veteran / Missing POW / Honor A Soldier / Bombardier / 303rd Bomb Group
I have rescued several scrapbooks, photos and more over the years. I just have a hard time understanding how someone could do away with their families history. Especially military information. Today I search for Leon Brownlee. Why? To pay Honor to another WWII soldier.
Leon Brownlee – Bombardier
1st Lt. US Army WWII Leon Woodrow Brownlee was born in 1915 and was from Jack County Texas. Where is that? Well, it is close to Graham, Texas in the north central part of Texas. Why did this scrapbook interest me aside from being a military man's history. I love the entire area around Graham, Brad, Strawn and Eastland.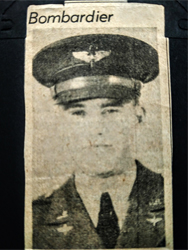 I just love east Texas because I have so many memories of family from there.
Leon enlisted on January 3, 1942 in Dallas, Texas in the Air Corps as an Aviation Cadet. He had completed four years of high school, college and had worked as a teacher. He also a retired Professor of Philosophy. He was single at the time of enlistment, was 66 inches tall and weighed 130 pounds. Don't you just love it when you can get so much information that you can just see the person in your mind. You are going to want to stay with me because this story has some water work moments in it, believe me I know. I cried for hours over just one part. Some of the letters home are so sad!
Leon's parents were George and Elizabeth. He was born on January 3rd and passed from our earth at the age of 85 on August 16th 2000.
Back to Honoring Leon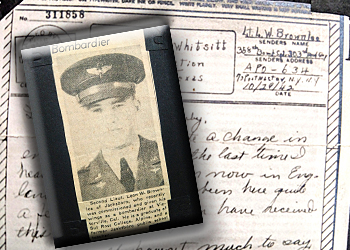 The 303rd Bomb Group was activated on February 3rd 1942 at Pendleton Field, Oregon. The group moved to Alamogordo Field, New Mexico. There are a few letters and postcards in the scrapbook from Alamogordo. The group was there for advanced flight training. The group then moved to Biggs Field, Texas to prepare for deployment overseas. From November 17 1942 until April 25 1945 the Group flew 364 missions dropping 24,918 tons of bombs. The Hell's Angels ( and I'm not talking about a motorcycle group here) named after the B-17 Flying Fortress 41-24577.
There were 8,960 men that served in the 303rd Bombardment Group.
On October the 11th 1942, the B-17 Flying Fortress 41-24582 named the "One O'Clock Jump" (that is the name of the plane) was assigned out, again on October 16th and December 12th. The last was a bomb mission on a German air depot in France but the weather caused problems. This was the mission that Leon and the others in the cover photo were on when the plane went out that day. The plane ended up being assigned to bomb the marshaling yards at Rouen/Scotteville. Their aircraft went into a spin from German attack and crashed near Fontainebleau, France.
The Plane is going Down!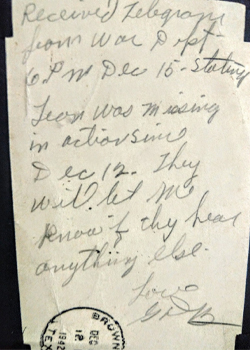 Leon had bailed out while serving as Navigator on the December 12th mission. He and the others on the aircraft became prisoners of War: with the exception of James Toney (Bailed out), Floyd Shaw (failed to exit), Robert Mayes (evaded capture), Kenneth Hildebrand (evaded capture), Billie Davis (failed to exit). Leon along with William Frost, William Devine, Joe Philips, and Joseph Powers, were all captured.
Newspaper Clips and Letters
Transcription from the newspaper clipping below reads: Lt. Leon W. Brownlee in German Prison Camp. The picture is reproduced from a Corpus Christi paper, (by another newspaper, and part of the scrapbook) showing Americans in a German prison camp. Lt. Brownlee of Jacksboro is in the center of the picture. The other four are his roommates in the POW camp. The man on the right is Lt. O.F. Forester whose Parents live in Smithville, Texas, sent the picture from Stalag, Luft 3, Germany. One of the letters states that "Leon was freed April 30th, and that he looked good." From Avin, his brother.
Can you imagine how hard it would be to know someone you loved was missing in action. How hard it would be if you had more than one son in the military during the war and you may not ever see them again.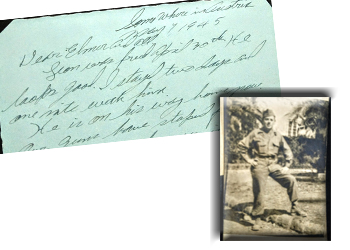 I have decided that the scrapbook I have found may have belonged to Leon's parents, or maybe even his grandparents. It may have even been a brother or sister keeping the book because so many of the brothers were off in part of the War. There are post cards addressed to one of his brothers Elmer Gore Brownlee. There are also letters inside from his brother Avin Wesley Brownlee, and another brother George Dewey Brownlee who were also serving during WWII I believe. Avin was for sure, he is in the photo with a letter he sent home.
Dear Folks… Leon is Safe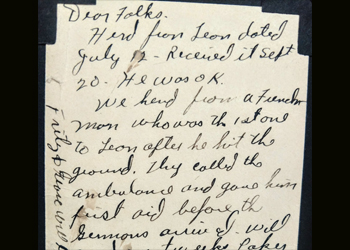 Insert from letter: "Dear folks, heard from Leon dated July 12, – Received it Sept 20 – he was ok. We heard from a French man who was the first one to Leon after he hit the ground. They called the ambulance and gave him first aid before the Germans arrived….. Love George". Leon went to a German hospital and then to the POW Camp in Germany with part of his crew members. A good deal of the envelopes inside are addresses to Elmer, another brother who was living in Brownfield, Texas at some point. At other time letters are addressed to Jacksboro, Texas.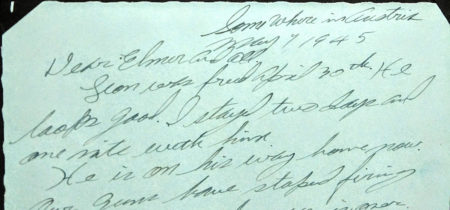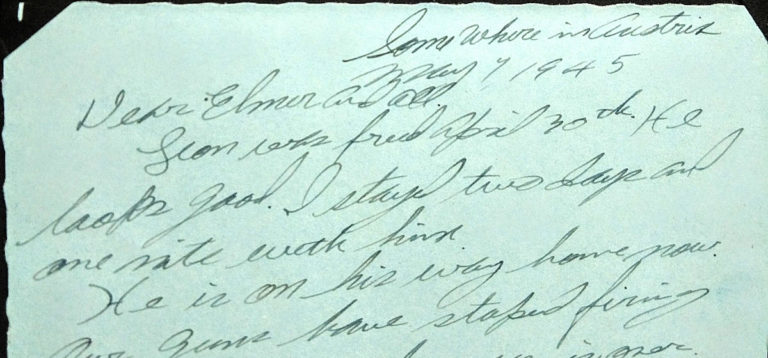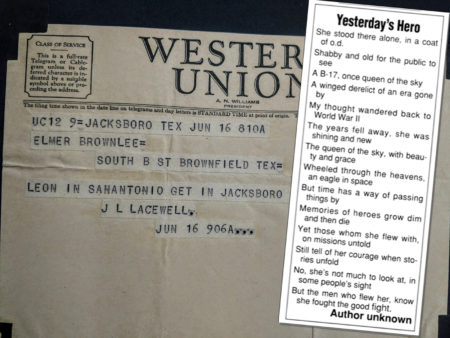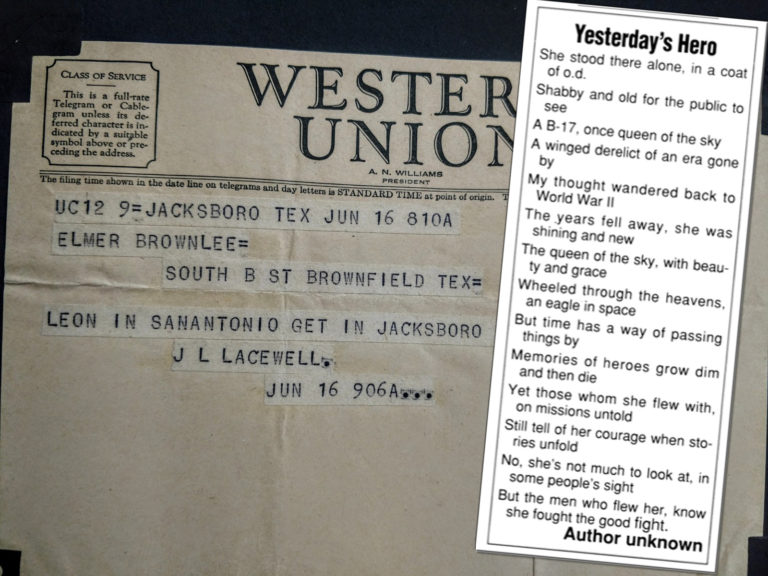 If you get a chance go to findagrave and leave flowers for our honored men of War. You can click on the leave flowers then go to veterans and pick something just for them. I left a pair of boots!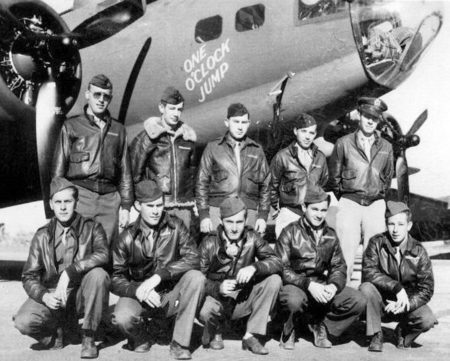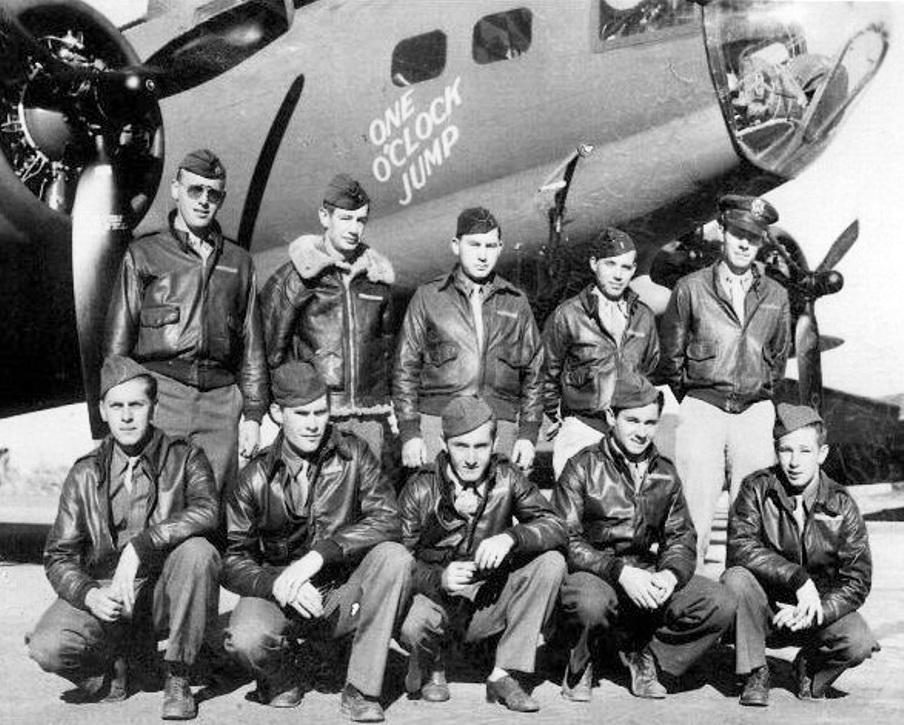 Resources used:
Scrapbook owned and in possession of Jena Hamilton
https://www.findagrave.com/memorial/103255752 please drop by and leave him a THANK YOU for his service.
https://www.findagrave.com/memorial/100619932/avin-wesley-brownlee
http://www.americanairmuseum.com/media/19158 (awesome site)
http://www.303rdbg.com (a lot of information here on WWII)
Thank you www.303rdg.com….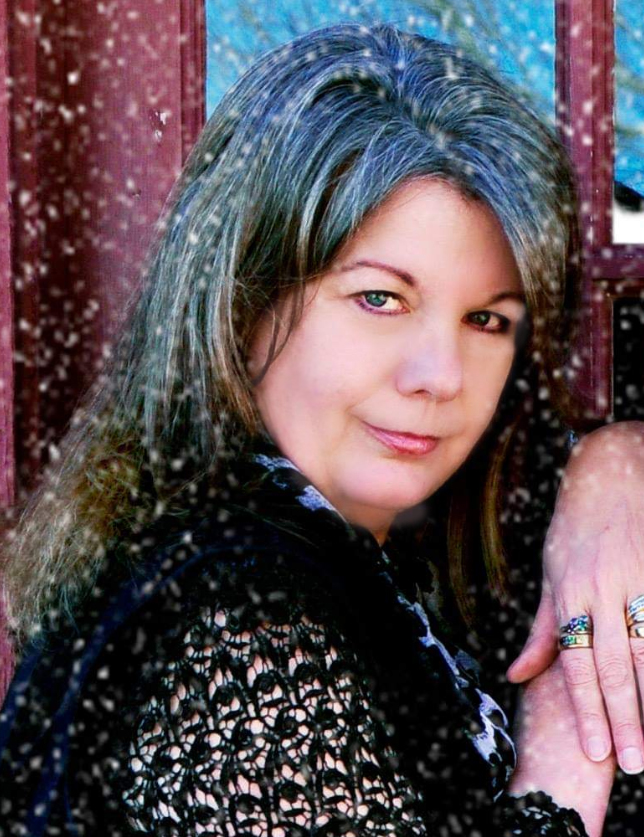 Jena spends her time researching her family tree as well as others. She travels, visits cemeteries and other historical places while gathering and collecting old photos, albums, scrapbooks and other pieces of memorable history to study and share. Jena is a retired teacher, has served as president with her local Historical Society, and maintains a community history page. She also loves photographing historical reenactments, cemeteries and historical places.