Following the Highland Clearances, many of these families took advantage of emigration schemes which saw them transported to Canada, the Colonies of America and Australia.
Young Thomas Douglas, 5th Earl of Selkirk was instrumental in assisting many of these displaced highlanders in obtaining land in Canada. Douglas first became aware of these displaced families when he visited the highlands as a young lad. He later ran into even more of them when he was studying law in Edinburgh. Thomas used his inheritance to assist these former highlanders in emigrating to Canada, initially to Prince Edward Island and later further west to Manitoba where he sold them parcels of land for very nominal costs.
In 1802, Lord Selkirk approached the Colonial Office for a subsidized settlement grant in Sault-Ste Marie, Upper Canada, with the hopes of establishing a settlement where the displaced Highlanders could once again farm their own land. The Colonial Secretary instead offered a land grant in Prince Edward Island, in the Belfast area, on the southwest shore. Upon receipt of this notice, Selkirk wasted no time in recruiting highland emigrants or in contracting ships and supplies. An advertisement, run in the Glasgow Courier for such ships can be seen here:
Selkirk provided assisted passage and a grant of land to those who traveled with him in 1803. A list of the land grants can be found here:
http://www.islandregister.com/landrecords/landdata.html
In 1804, Lord Selkirk was granted 1200 acres on the north shore of the western end of Lake Erie. Again, this land had been granted as a military strategy, being at the southern most part of the St Lawrence Seaway.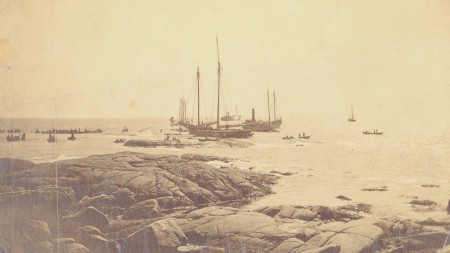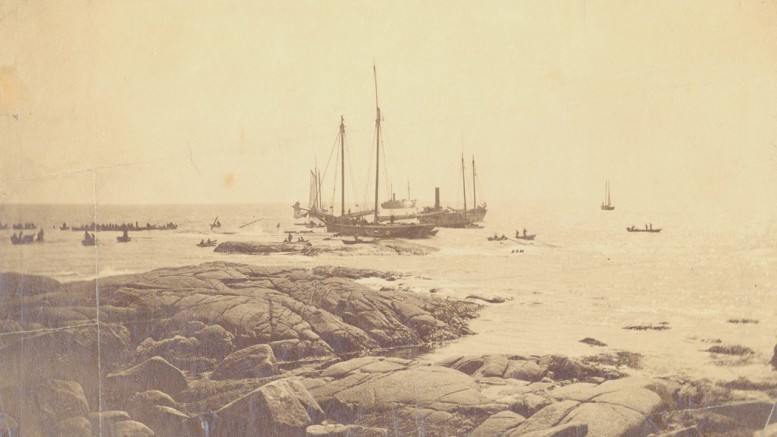 This was an arduous trip for the highland families. They had to winter at Selkirk's estate in Kirkcudbright as the passage was not viable over the winter months. They spent two gruelling months at sea and another onerous month crossing the land and forging rivers until they finally landed at their new settlement. The fifteen families were from the inner Hebridean islands (Mull, Tiree, Coll). At the time, the area was named Baldoon, after Selkirk's home in Scotland. A list of the individual land grants can be found at:
http://www.windsorscottish.com/docs/doc-baldoonlandtable.pdf
Much of the success of Selkirk's scheme was that he allowed entire families to travel together, and gave them permission to bring their highland culture with them. This was an intriguing draw given that the English government had essentially outlawed the highland way of life, forbidding the wearing of tartan and the speaking of Gaelic. Having families together meant less chance that the new immigrants would want to return due to homesickness or missing family. They came with a built-in support system.
Further to their success, these former highlanders wrote to family, friends and former neighbours back home and encouraged them to also seek passage to Canada, where they could be very prosperous and make a new life for themselves and their families.
Other Settlement Schemes:
In the period of 1815 to 1818, the Rideau Scheme was developed. This was a military settlement, organized again by the British government along the area of the Rideau lakes, south west of the Glengarry Settlement, which by this time had no further room for expansion. Many lowlanders from Lanarkshire and Renfrewshire were assisted to colonize in this new settlement. The place names that remain today, attest to these early settlers (Lanark County; Renfrew County).
Between 1819 & 1820, over 900 highlanders came through the port of Quebec and made their way to the north shores of Lake Erie, in what is now Elgin County. This was a settlement that was managed by Thomas Talbot.
Colonial Societies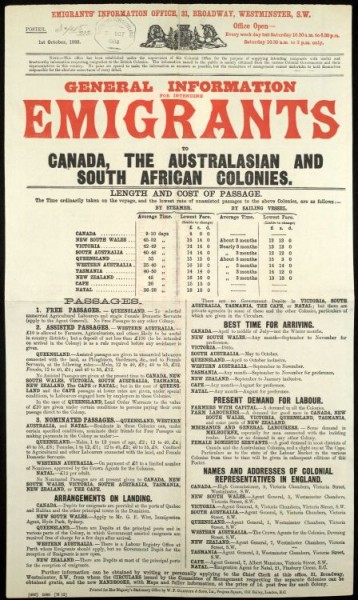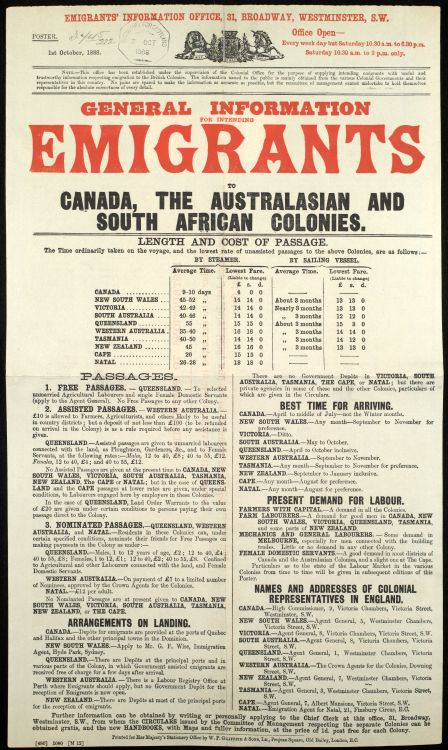 As a way to assist with the transition of emigrants going to the colonies, a number of local Colonial Societies were founded. And a number of assisted emigration schemes
were formed. Regardless of where they were located, these Societies were similar in that they provided assisted passage for families willing to emigrate to the colonies. Here is an example of their objectives regarding the people they would provide assistance to:
Entire families would be together.
If they were able-bodied men or women of good character
They could not exceed a specified age or have families exceeding a specified number of children.
The potential emigrants must possess a specified quantify and description of clothing.
Families were required to pay a deposit of from 1 pound to 2 pounds, for adults, and 10 shillings for children.
People exceeding a certain age would pay more.
Only after all means of meeting the expenses was made would a family be allowed "aid". (they needed to prove they had attempted to raise the full funds themselves and had not been successful in doing so)
The trustees or owners of the properties from which the emigrants departed would be expected to pay one third of the sum given.
Any sum advanced to emigrants would have to be repaid.
Perhaps YOUR Scottish ancestor came over as part of a settlement scheme.
Scottish born, Canadian raised, Christine had the best of both worlds, growing up immersed in Scottish culture. Realizing that others of the Scots diaspora were not as fortunate, she started her business, Genealogy Tours of Scotland to allow others researching their Scottish roots the opportunity to return to the land of their ancestors, conduct family history research and deepen their sense of belonging to their ancestral kin.