Automobiles in photos can give you clues or set you on the right research path.
I love it when cars are in the photo!
Why? Because it will give you the year, county and state.
That may not be all the information, but sometimes it is more than you know and it can at least give you some to start with.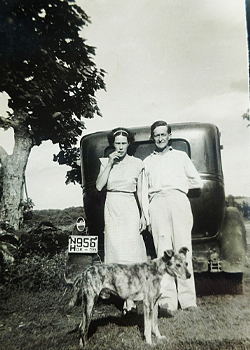 This photo has "love Edna and Daddy" on the back. It is not my family, so if that is all I know, the car gives me a great deal.
If I zoom in, the year on the license plate is 1939. It is an Oklahoma tag and you can go on line and find out what county the NH stands for. I found a site that tells the county's and what all the numbers and letters all stand for.
Looking at the Car Tags
Years and counties as well as states available. Now if I could just find a data bank where you could look up who owned the car.
So, this car was registered in Nowata County, Oklahoma, 1939. That is pretty good to at least narrow it down to a county within a state.
Monterey Miller – Millers Garage
Always look at the surroundings in the photo. This will help date the photo and maybe tell you where it was taken at.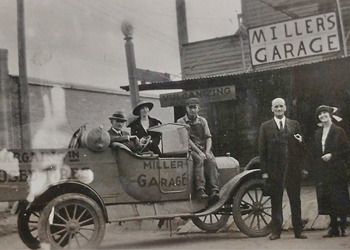 I love this old car. They fixed it up with an air tank in the back to go air up tires!
Also in the background is the little business and I can look it up to see if I can find where it was located.
Earl and Cora Miller
Earl Miller and his wife Cora, taken in Abilene, Texas. Car plate was 926-513 Texas plate. I have not been able to read the year on this one yet. I do know that these two are married and had been from around 1910 on.
Earl is Monterey Miller's brother, and he worked as a farmer on some of the census reports so I don't know if he had anything to do with the Miller Garage or not. So I'm still looking for that connection to someone in this tree.
Oh, and just like that it pops up… I love it! I just found something to connect Earl to the Miller Garage. I have no idea want a vulcanizer is, but I will be finding out. This vulcanizer word is on a large sign right above everyone's heads in the photo above for the garage. So I'm willing to bet that Earl is now also in the photo. I will guess that he and his wife Cora are the two on the left side of that photo.
I also at least have a proximity time frame now because I found this little piece of information in a directory. I kept looking for advertisements on the garage in the newspaper and did not get anywhere so I changed up my approach and bingo!
The address is 1243 S 1st h282 Portland Ave. Abilene, Texas. It is dated 1934. I have also found out that he had the garage in or about 1923. One little piece of the puzzle leads to another every time! I am so excited to find this.
So who else wants to know what a vulcanizer is or does? Apparently you combine sulfur and some other substances and somehow under pressure and heat it gives the rubber more strength and resistance., making the tires stronger. I'm thinking this is some sort of machine to help with fixing flats or bad spots on the tires.
Be sure and Look at the License Plates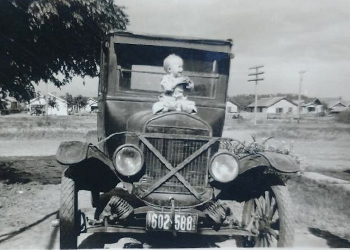 Tip — You can't just zoom in on these photos and read the car tags all the time.
I had to use a magnifying glass to see them so they didn't pixel out on the computer. This easily has Texas on the right of the numbers by I can't make out the date on the left. I keep looking for a way to plug in the old numbers and find out who owned the car. But no luck so far. I wonder if the DMV keeps records this far back? Maybe I can find out!
Enjoy your research and remember to use all the hints in the photo for some more clues to your story!
Resources and links:
http://bprlicenseplates.com/Oklahoma%20-%20county%20codes.htm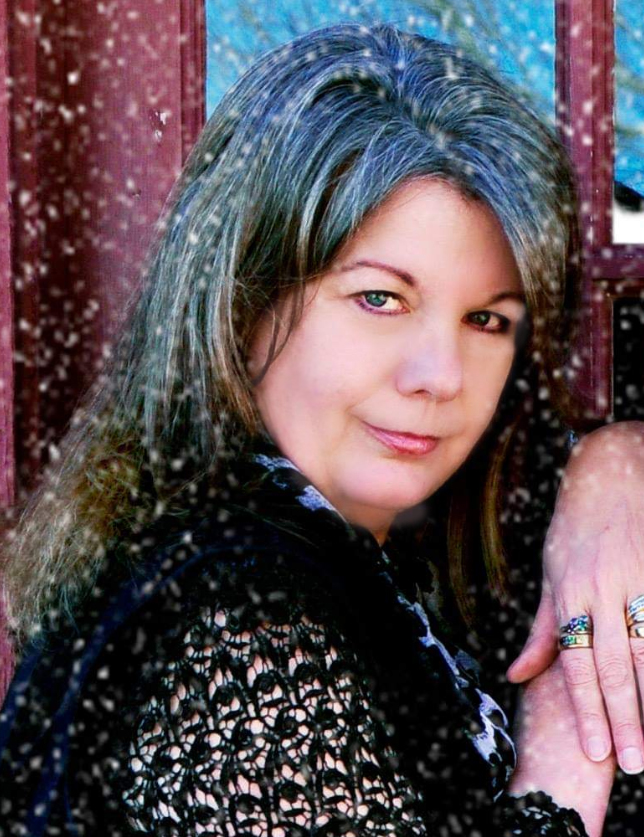 Jena spends her time researching her family tree as well as others. She travels, visits cemeteries and other historical places while gathering and collecting old photos, albums, scrapbooks and other pieces of memorable history to study and share. Jena is a retired teacher, has served as president with her local Historical Society, and maintains a community history page. She also loves photographing historical reenactments, cemeteries and historical places.