Nothing like finding a great story and having hundreds of people with the same name come up. You have to find the facts first, before you can even have a story to write. Try old newspapers.
If you are looking in the newspapers for information on your family members you will have to be sure you are reading about the correct person.
Especially with people of the same names. And if you weren't confused enough, try sorting out information on men that name their first born after themselves for many, many generations.
I love reading the very old newspapers. I find so many awesome articles to read there and information that is unavailable anywhere else. I find many stories on people that when I go to find them on FindAGrave or other sites there is no knowledge of their births or deaths.
There is a wealth of information in newspapers. If you are stumped somewhere in your tree then this is the next resource to review. It may not be an obit, it may just be a story about them as it was for me today about William Thaw.
Colonel William M. Thaw (Jr.) II – World War Flying Ace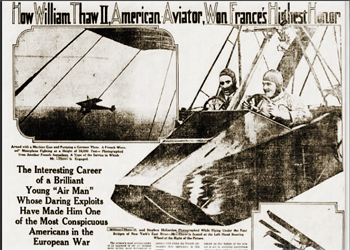 William Thaw was born August 10, 1893, he had a great love of airplanes and flying. He was a pilot in the war and became known as the World War Flying Ace. He wanted to fly planes so bad that he went to France at the age of 18.
Mix Up of Many William Thaw's
I had to take a lot of notes in order to sort all the the stories and separate his story from others.
I discovered that there were many mixups in the newspapers. One paper got the pilot William Thaw confused with another Williams Thaw and got in a lawsuit because of the write up.
There is a William Thaw that was a railroad millionaire, (turned out it was this man's grandfather). Another William Thaw was a crazy drunk (this one was a cousin). All from the same area and time frame.
That's why it pays to do a lot of reading before you start attaching newspapers to your tree.
Sometimes it is hard to know where each one fits, and which one they are talking about in the paper, but you will get it. Let's move on to the story of William Thaw, the pilot.
One Great American in the European war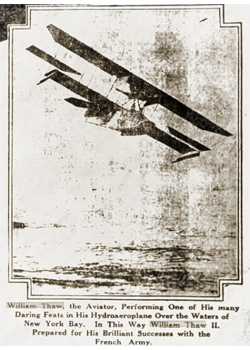 America was proud of great aviator William Thaw II of Pittsburgh and New York.
A newspaper article ran in multiple cities and papers, so he wasn't just a local hero.
Yale Scholar
William studied at Yale and had a great number of friends there. He spent several seasons in Newport and Palm Beach, New York and Pittsburgh. He had a host of admirers.
Was He Really Killed in Action?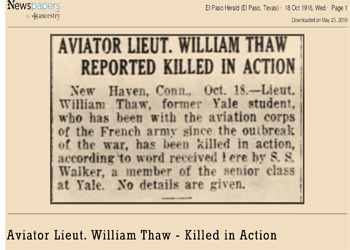 At one point they all thought he had died behind enemy lines.
He ends up finding his way back across enemy lines and is not dead in a few papers later. Keep reading. I almost stopped reading after that and would have missed a lot of good information.
Putting on an Aviation Show

William performed astonishing feats in the United States before heading to France. He was the first to pass under the four bridges of New York's East River in a plane. The feat was a magnificent site while hundreds of thousands of citizens of New York watched as he flew from Newport, Rhode Island to New York.
He made aviation history performing a dangerous stunt that others would not attempt.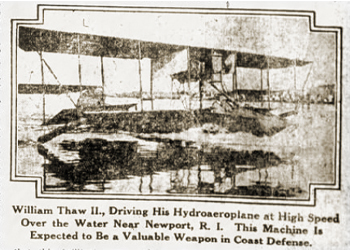 After his feat under the bridges he took three turns around the Statue of Liberty before proceeding to Staten Island while encountering the steamship New York and circling it three times.
Received the Military Cross From French Government
At 21 years old, Williams volunteered for the aviation corpse in Paris, France, enlisting in the Foreign Legion. During the summer he was assigned to the French army at Verdun being a critical position in the defense.
William foresaw that the airplane was to be the omniscient eye of the army commander. The flying machine made surprise attacks by day and flanking movements while allowing the airman to detect movements. The planes could now be built with armor and carry machine guns.
The William received the Military Cross for his heroic services. The highest honor that can be paid to a French Soldier for personal services on the field of battle. He instilled new proofs and possibilities of the airplane in warfare.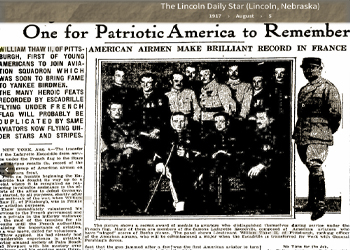 After six months in the trenches, In December 1914, William and two of his comrades in the legion, James Bach and Bert Hall, were called from the trenches and sent into an aviation training school. On May 17th the American squadron made its first flight over the lines A report came that he had fallen within the German lines and was killed.
Daring Feat Again
It became known that he had made a daring escape for which he received the decoration form the French Government. He had been hit by a shell and forced to fall behind German lines. He gathered important information, repaired him plane while under fire and flew out and returned to the French lines.
Thaw and Lufbery, one of the comrades were given several medals of honor being cited for bravery fighting side by side. They were the first Americans to bring down five hostile planes, the Americans did not shirk off responsibility or danger and would dive straight for the French trenches.
On April 30 1917 there was a write up in the Decatur, Illinois Herald stating the American aviators had again emerged victorious from battle in the clouds over the Germans. The heroes were Willis Haviland and Charles Johnson under the command of Lt. William Thaw.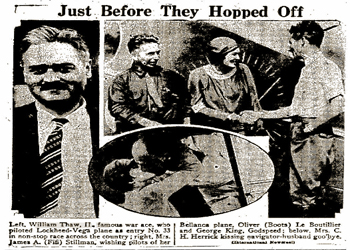 After a year on the front fighting Thaw wanted to visit his parents and traveled home on a French passport. In Aug.of 1917 Lt. Thaw there was a call for commissioning him as a major. While the rest of his group were named as captains and lieutenants. They were then to take charge of the American aviators that were joining in on the pressing of the troops in France.
There are several full page newspaper articles about William and his team that were fighting during the war. Also about the aviation history of the plane and it's use in the war. You can find one of the full pages at this link:
https://www.newspapers.com/image/408958820/?terms=william%2Bthaw
From the Atlanta Constitution August 19, 1917 "William Thaw was made chevalier of the Legion of Honor, with the following citation:" William Thaw "number 5503, Lieutenant in the 124th squadron, voluntarily enlisted for the duration of war. He is a pilot remarkable for his poise, boldness and his scorn of danger. He has fought recently eighteen aerial combats at close hand. On morning of May 24 he attacked and sent to the ground an enemy plane. The same evening, in addition, he attacked a group of three equally armed Germans, and pursued them from 4,000 to 2,000 meters up in the air. Seriously wounded in the course of the fight, he nevertheless, to his energy and his boldness, succeeded in steering his plane back over our lines, and though his machine was badly damaged, brought it to earth at usual." (Newspapers.com – The Atlanta Constitution – Atlanta, Georgia, 19 Aug 1917)
Others Honored for Heroism – France
Private William J. Steede, Company E, 168th Infantry – August 2, 1918
First Lt. Edward V. Rickenbacker A.S. 94th Aero Squadron – March 26th, 1918
First Lt. Douglas Campbell A.S. 94th Aero Squadron May – 19th 1918
Second Lt. Ralph A. O'Nell A.S. 147th Aero Squadron – July 2, 1918
First Lt. James A. Meissner A.sS., 94th Aero Squadron – May 1918
Captain David KcK. Peterson A.S. 94th Aero Squadron – May 3rd, 1918
First Lt. Frank A. Liewellyn, pilot, 99th Aero Squadron – Aug 17th 1918
Second Lt. Roland H. Neel, Cac., observer 99th Aero Squadron – August 17th 1918
Lt. Thomas J Abernathy, A.S. 147th Aero Squadron – July 15th 1918
Second Lt. Allan F. Winslow, A.S. 94th Aero Squadron – June 6th, 1918
The newspapers printed all their home address including that of Major William Thaw. Maybe so everyone could write to them and tell them thank you. That leaves me with so many questions!
William's Brother Played a Role in Aviation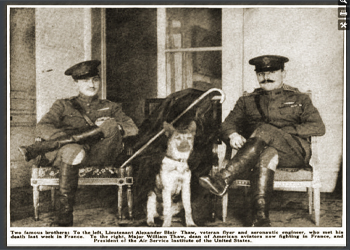 William's brother Alexander Blair Thaw was only fifteen years old at this time and has invented an automatic stabilizer for airplanes which was used by both brothers in successful trials. William and his brother had devoted themselves to the science of aviation and were young mechanics forced to work for a living. Instead of partaking in fun that would be grinding away working on the science of their machine.
They made a thriving business at taking people on flights for twenty dollars a flight as high as they wanted to go. He proposed an aerial cab service and dropped newspaper bundles off.
Alexander was famous for the formation of the Lafayette Escadrille. Was one of the first to carry mail shore to ship. Flying and dropping newspapers in 1913.
They are Remembered
In 1918 Major William Thaw A. S., 103rd Aero Squadron is cited for extraordinary heroism in action. He lead three planes to attack eight enemy planes in battle. At this time the Bronze Oak Leaf was awarded to Major Thaw for his heroism in action. A notice was sent to his home address to Benjamin Thaw Jr. in care of the American Embassy in Paris France.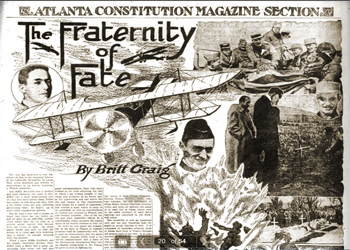 Colonel William Thaw II
Colonel Thaw dies at at 40, on April 23, 1934. After the war he continued with his aviation and some business interest including insurance and running other corporations. He died after a lengthy bout with pneumonia.
There is one large write up in the Times Dispatch Richmond, Virginia on June 13, 1915 that confused the two cousins. William Thaw III was in a great deal of trouble and a drunk. In this article he was given credit for his cousins good deeds in the French air units.
Sources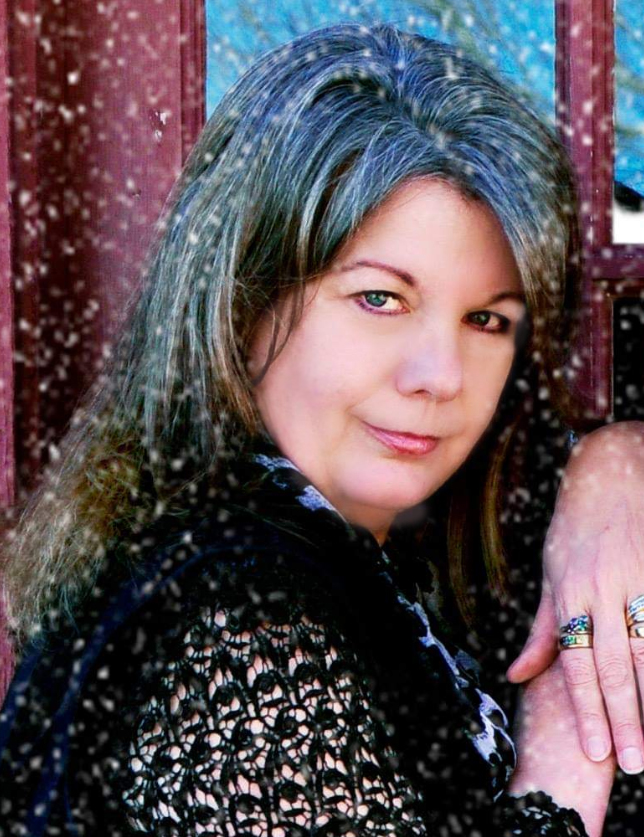 Jena spends her time researching her family tree as well as others. She travels, visits cemeteries and other historical places while gathering and collecting old photos, albums, scrapbooks and other pieces of memorable history to study and share. Jena is a retired teacher, has served as president with her local Historical Society, and maintains a community history page. She also loves photographing historical reenactments, cemeteries and historical places.