In case you didn't know, we have a section on the website for rescued photos.
These are photos and cabinet cards that I've found in various collections and antique stores. Our goal is to publish these photos so they are available through search. That way as people are searching their ancestors they might find these photos.
Please note that we do take submissions for old photos. See the bottom of this post for more information.
Rescuing Old Photos
Rescuing photos can get kind of tricky though. Here are some tips if you decide to try it yourself!
First, be sure and write where everything came from. I write on the backs of the photos if they came from an album so I could remember where they go back. Especially if I have them out using them to try and track down a family member.
Maybe A New Hobby?
Helping do this small hobby helps other genealogist find their family members. Otherwise they could end up getting bounced around from one store to the next or even trashed if an owner of that antique store thinks he can't make a profit off of them.
Helping Others!
This photo is from one of my rescued albums. This lady went to a lot of trouble to write and fix this awesome album. One day someone will see it and want the photos and the memories. Until then I will keep spreading the memories so others can find those little helpful parts of the puzzle for their tree.
Roundtree, Wright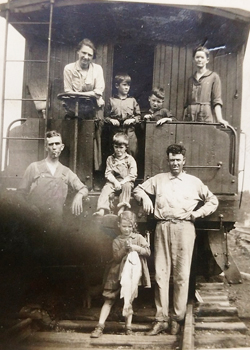 I believe the lady on the right to the back is Grandma Roundtree, Elizabeth Wright Roundtree. She married Orville Harrison Roundtree on September 10th, 1840.
Roundtree, Whittle, CornJotou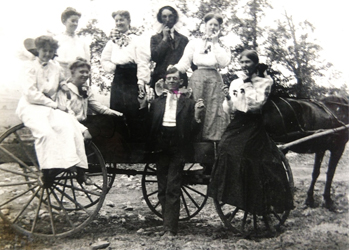 This one is a comic shot, I think the lady on the right has a cigar at her mouth. From left to right are the names listed on the back: Lelisa, Lola Hattie Miley Whittle, Maud Whittle, Clint Whittle, Ed Whittle and Albert CornJotou.
I think everyone is a little intrigued with Albert. If I found the correct person he was born in Mexico and in 1940 was 19 and living in Los Angeles, California. His occupation was a shoe repairman.
Lizzie Duke, Billie Duke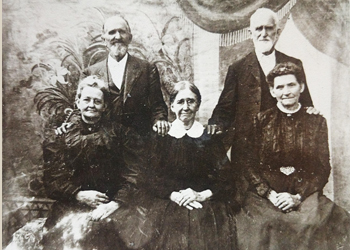 The photo itself cannot help date a lot of the photos in this album.
The lady that made it took photos of other photos and had a picture made from negatives so many of the photos were printed long after the original date. One thing she did do well was to write notes on the back of almost all the photos.
Researching Old Photos
The first goal is to identify the person in the photo. Hopefully something is written on the back.
Sometimes the photos were at an antique store together with other items. That gives you a connection. I look for papers to go with items, like postcards, albums, letters and other items. Anything to help show who owned it.
Once you have a name then you hope to get dates and places. City and state. Even basic information can be enough to help someone with their family tree.
Help Someone Find Their Family
You could just pick up one every now and then when you are already there looking for your items. This would be a great way to give back to someone. A little love goes a long way.
If this is something you already do or you are considering, then please get in touch with us.
You can submit individual photos in the link below
If you have more than 3 photos, then contact us via email to [email protected] as we also take them as an individual guest post.
Again, this is really about helping old photos find a home. It can be a fun and rewarding hobby. Especially if you are already into genealogy and like looking through photos at antique stores.
There is always some wonderful stories involved when it comes to antiques. Happy hunting!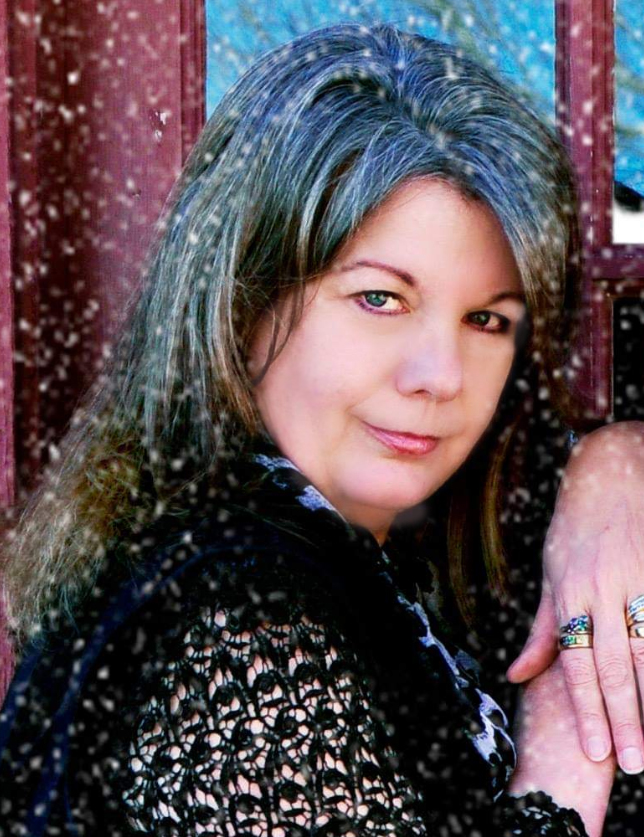 Jena spends her time researching her family tree as well as others. She travels, visits cemeteries and other historical places while gathering and collecting old photos, albums, scrapbooks and other pieces of memorable history to study and share. Jena is a retired teacher, has served as president with her local Historical Society, and maintains a community history page. She also loves photographing historical reenactments, cemeteries and historical places.