Different places to look for information including scrapbooks and postcards with examples of information you can get from postcards!
If you find one item in the antique store, don't stop there.
If someone took a box of stuff to an antique store there will be more. If I find a photo or two I start looking around for more of the same people.
I find all kinds of things from that one source. If you look and find a surname you are looking for or just one to help someone out, be sure to look around for the little basket filled with postcards.
People loved to send postcards of everything in the olden days. From places they had been on vacation to events.
This is a great way to have dates on vacations and other trips that someone took. Little pieces of the puzzle to fill in large gaps. Beautiful memories helpful tidbits of information all at the same time.
Go through those scrapbooks
You never know what you might find. Pieces of history forgotten and tossed out hanging out in the store just waiting for someone to come along and save it. You just never know you might just hit the jackpot while you are there.
Meet Joe Hutchinson's memory
He was born October 2, 1879 and passed away February 12, 1952. Not only do you have this information you also have who officiated the funeral J. H. Brister.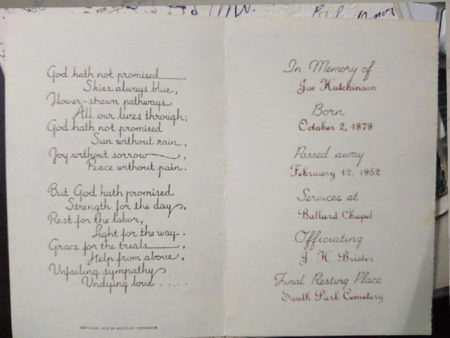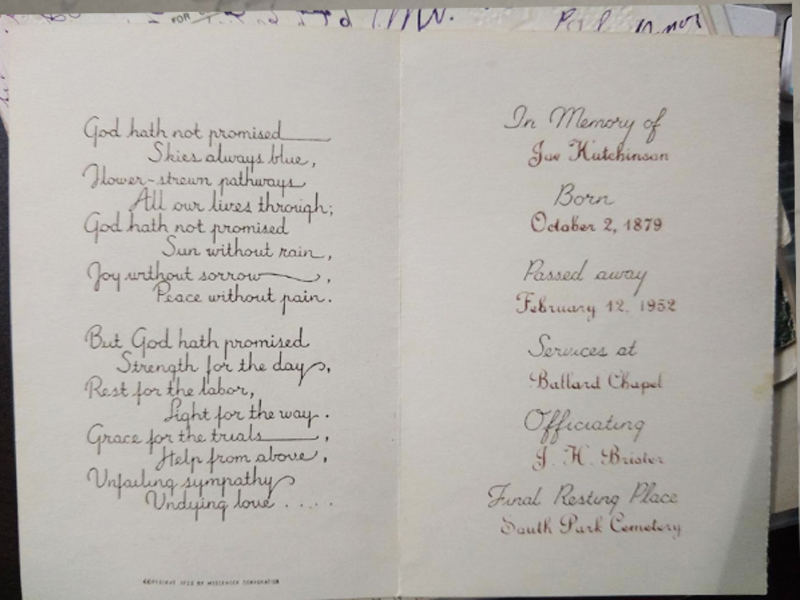 This took a little while to find because I had no town, state, or other information. I also could not get very much form findagrave without a state, town, or county. All I had was his name and the cemetery name. Ancestry finally brought him up by using the dates and looking for the cemetery name under the death search. So I get to go leave flowers for Mr Joe Hutchinson now because I found him.
These items make good items to go in a shadow box. It may be sad but it is a specific memory of the person and this just helped me show he is remembered on findagrave. Go leave someone some flowers on findagrave. Why do I find this important? Because he has been gone since the 50's, he had a life before ours, that makes him important. He had no flowers on his page at all. I don't know who he was but at least now he is not forgotten.
Saving their Memories
I have one old photo album I picked up at an antique store that didn't have very many names in it. It has a lot of things, including photos and postcards from places. Most everything is about his duty and life while in the service.
I have looked at it several times, I keep looking for that one piece to help me figure out who the book belonged to and today it happened. When you go back a few times and think about things differently, you see things differently. I kept looking on the backs of photos and all the normal places and just could not make it work.
Don't Look to Hard!
I decided I would use one of the signature pages on here and show where you can get little clues about his friends or in this case the guys he was serving with and WOW! I finally took the time to really read each one, and one person finally gave me his name. I now know who the book belongs to and who most of the photos are of.
It's The Little Clues That are so Strong!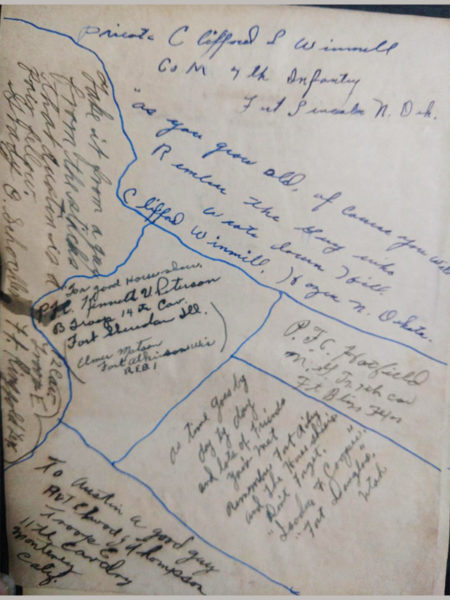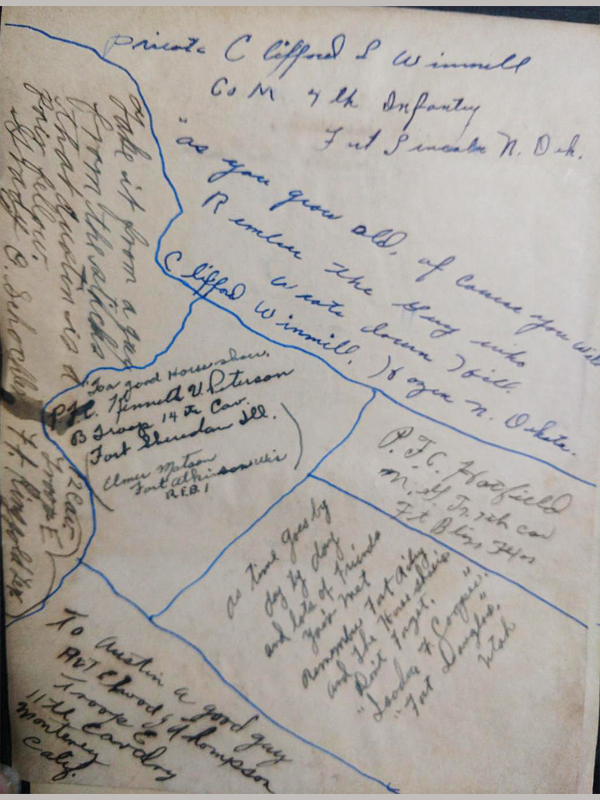 Pt. Clifford L Winnill
P.F.C. Hatfield
P.F.C. Kenneth V. Peterson
Pt. Elwod G. Thompson
Elmer Matson
Grady O. Schochler
"To Austin" right there in the bottom left hand corner. Pages of little clues and notes about their time together. Most all the pictures are either from Fort Riley, in Kansas, or Fort Bliss in New Mexico. There are also some family photos as well, but I will concentrating on his military service.
My main point here, don't give up, keep looking till you find it. It was right there the entire time and I just wasn't seeing it yet. I'm pretty sure Austin had a couple of other brothers serving at the same time.
I will be doing a whole piece on this photo album and their lives later on all by itself. But how neat is it that there are these little notes in someone's handwriting. Like the one on the right from P.F.C. Hatfield. I'm not sure what the middle line is after M. G. ??? Fort Bliss, Texas, but these are some awesome histories right here.
Like the little note right under that "As time goes by, day by day, and lots of friends you've met. Remember Fort Riley and the horse shows, don't forget. Isodore F. Cooper, Fort Douglas."
So now, let me tell you the reason I kept messing up on this one. There is a picture on the inside cover and I kept going there. Trying to make everything fit and it just would not. I don't know who it is yet but I will find out. But that person must have been important to Austin. Off to my next journey!
Post Cards Have Names, Dates, Places and Friends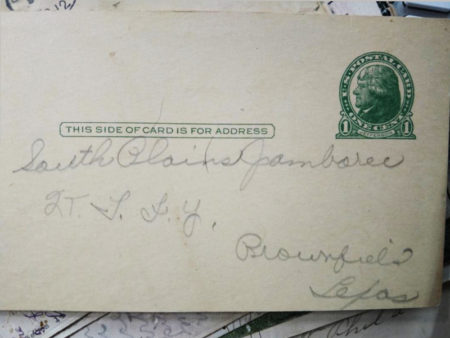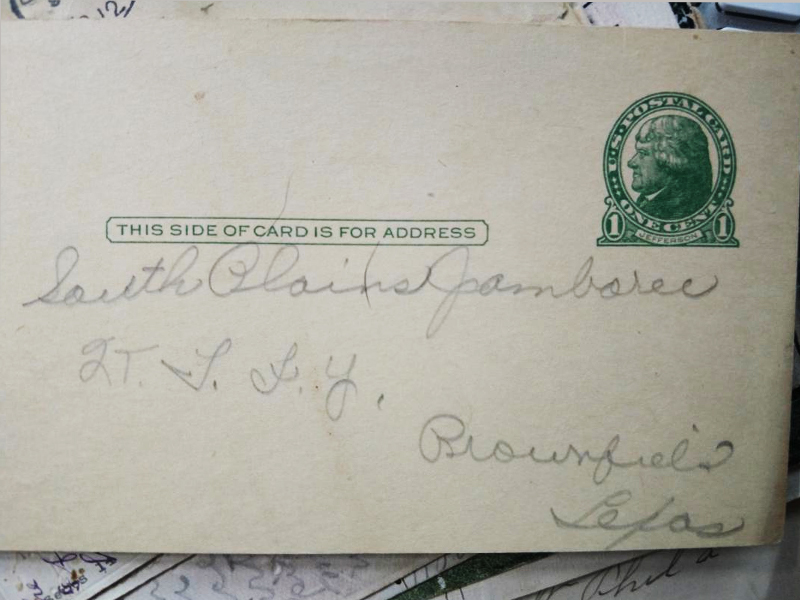 South Plains Jamboree
I thought this one was so cute. I guess the South Plains Jamboree must have been a radio show in the day. There is no postmark or date. But with a one cent stamp and the other side being the undivided card that will date it somewhere around 1901 to 1907. The best part is the other side!
Glenn Holmes, Jimmy Robinson, Marlene and Virginia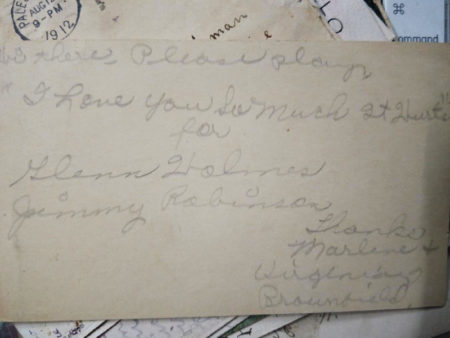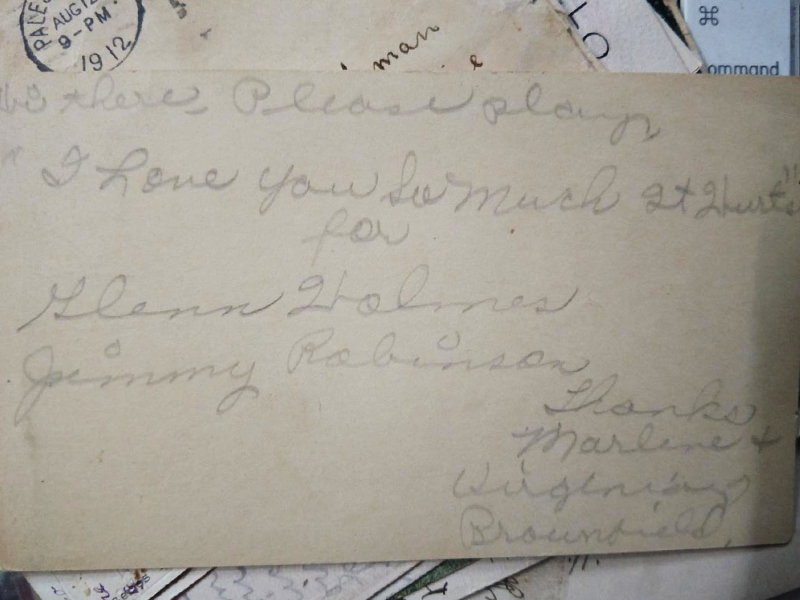 It reads "Hi There, Please play I Love You So Much It Hurts for Glenn Holmes and Jimmy Robinson. Thanks Marlene and Virginia – Brownfield."
These are some really sweet memories. It would be awesome if they ended up getting married! I may just have to look them up and see.
There are so many things that can be used to find information for your tree. So many things that can tell the smallest story. Your family is a part of you forever, even if they are five or six generations behind you.
Miss L Roesch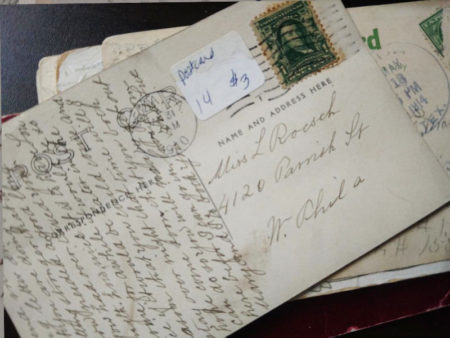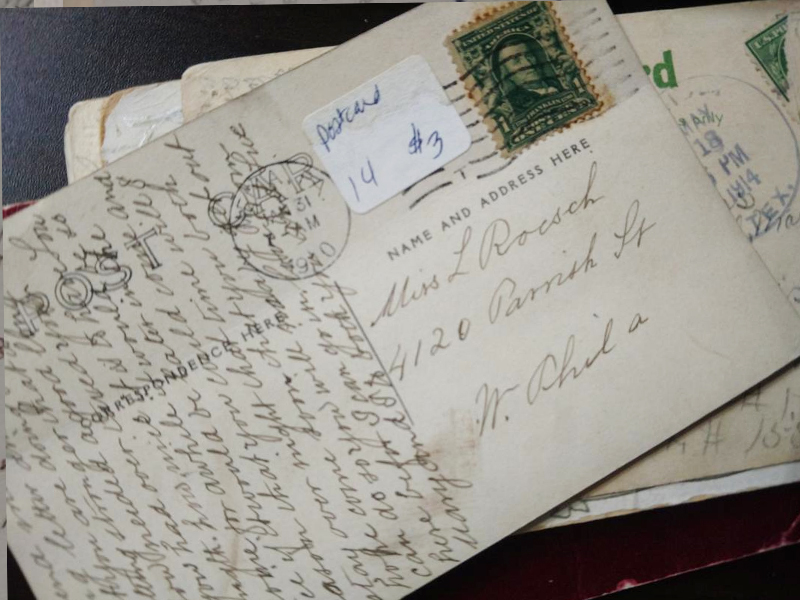 The divided back era for the postcards puts this one dated around 1907 to 1914. I love the old one cent stamp. This one could take some time. But, it shows the address so she should be easy to find.Maybe there is someone out there that needs this for a great piece of their family puzzle. It would make a great addition to that family shadow box.
Mr. Harve Maxie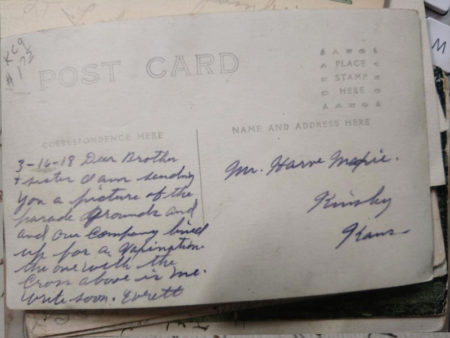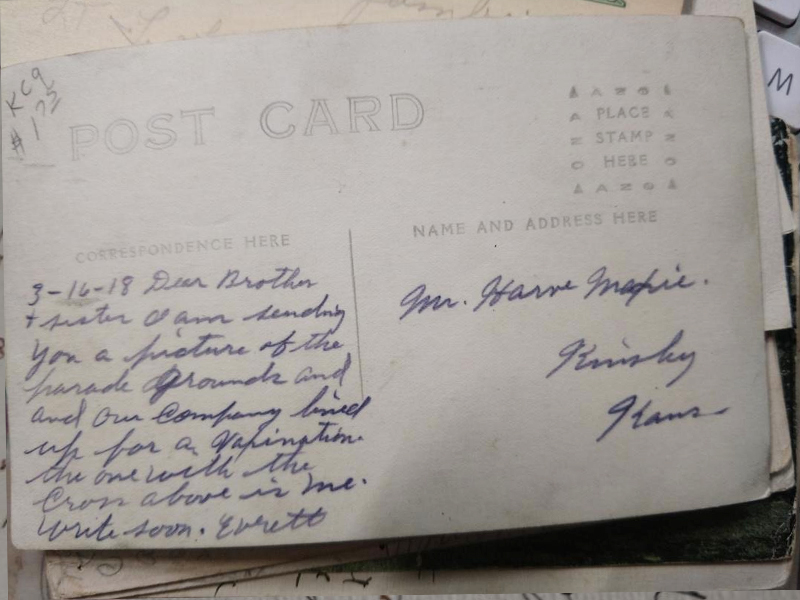 No postage on it so it came in an envelope and the front is an army base photo. So who ever Everett Maxie is I will find you and leave that pair of boots on your findagrave page.
I know he was writing his brother and sister and because he used Mr. Harve I will start my search with Everett Maixie. It is dated 3-16-1918. It's strange to be holding a piece of history in my hands that is one hundred and one years old.
Mr Cordell Green – Brownfield, Texas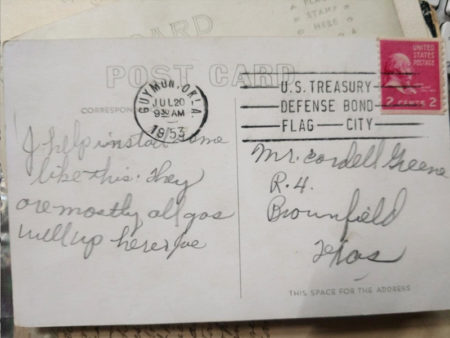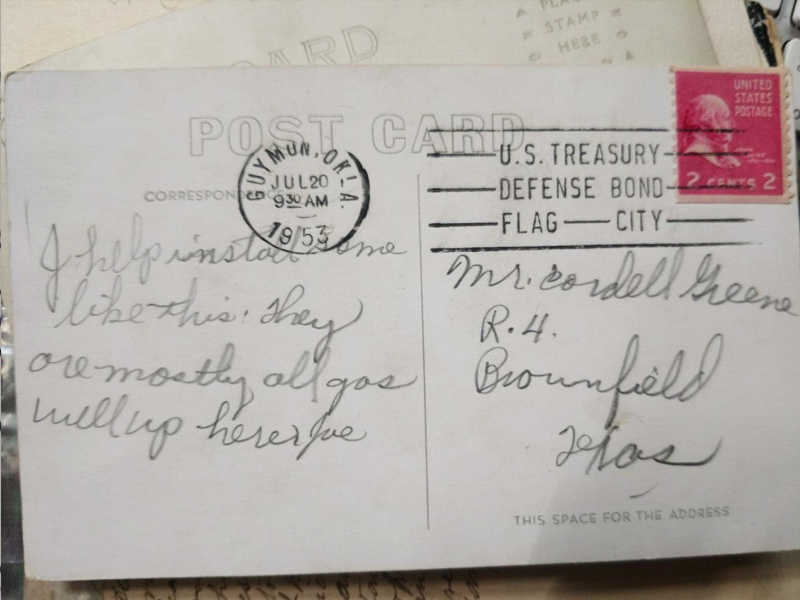 Dated 1953, on the other side is someone working in the oilfield. What a piece of history that is. I will have to see if there is a person named Joe in his family. Either way beautiful memories for someone.
Miss Beulah Chapman – Palestine, Texas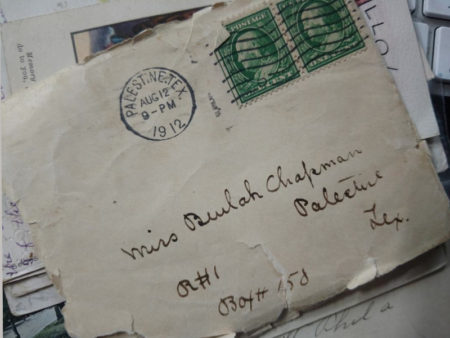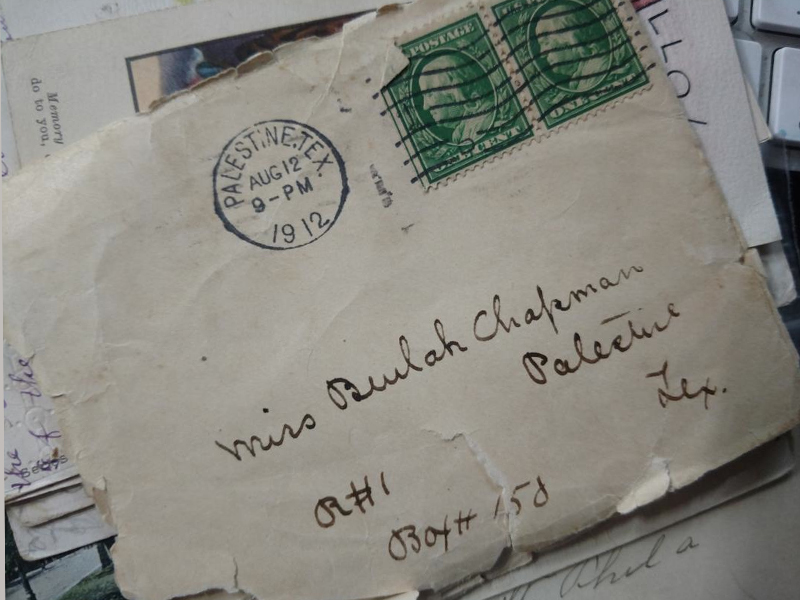 Wow, a letter dated 1912. I have several postcards addressed to her. All of the stack in the feature photo were hers. There was an entire box of her cards and letters. One thing you can do after using the information for your family tree is make a memory book. I took several of the ones that my mothers best friends had sent her. I took photos of everything and fixed those in a book to be printed.
I'm taking several and making a cloth scrapbook book full of her memories to pass down to my grand kids. Items like this can show the children that this person was important.
No one writes letters any more so a keepsake of this type can hold a piece of history that is long gone. This would also give you something to do with the children. They could help in putting something like this together. Then that makes them feel a part of it and lets them feel important.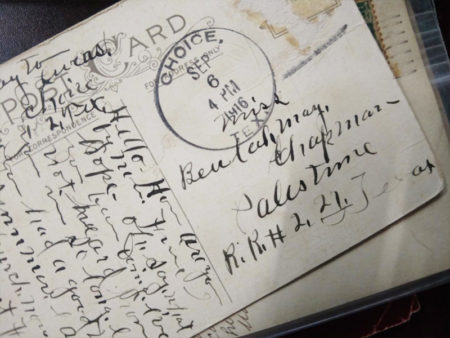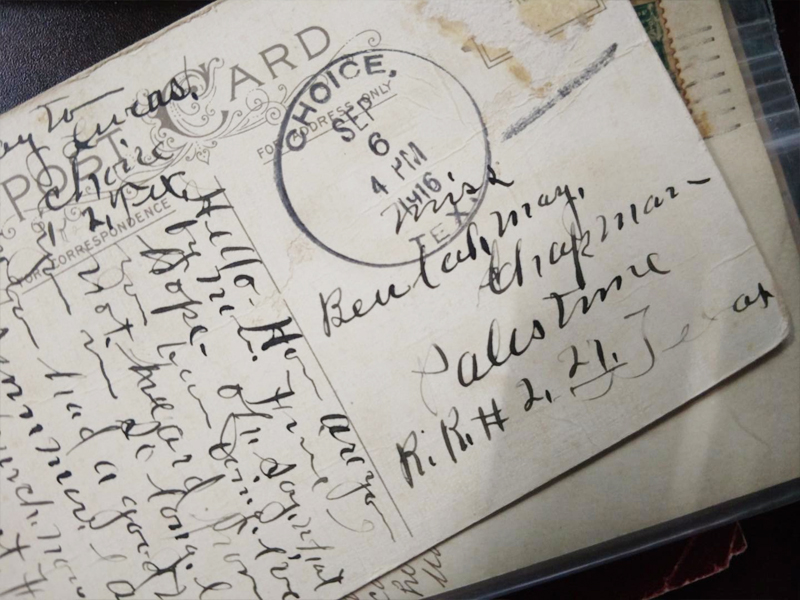 See what happens when you keep the whole stack. Now I have her middle name as well. Hello Miss Beulah May Chapman. A good ol' county girl from Texas.
Mr and Mrs John T. Burton – and new baby John Wallace LaMont Burton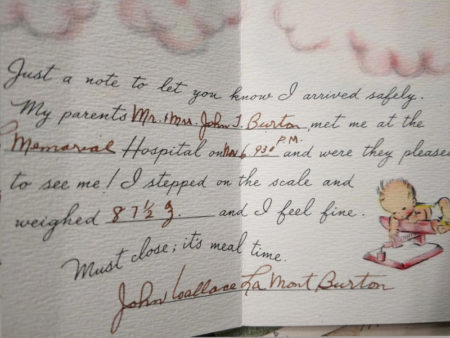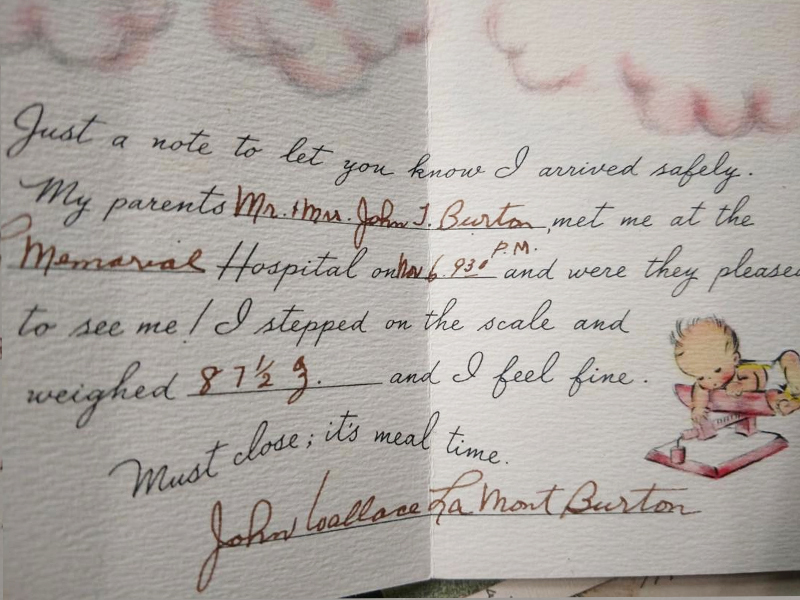 The little things make a great family story to write in you tree for your children.
You can use almost anything to gather information on your family. As long as you hold on to it. Find the right person that loves to do genealogy and that will make your family tree blossom and give it all to them. Until next time, look in the unusual places for clues.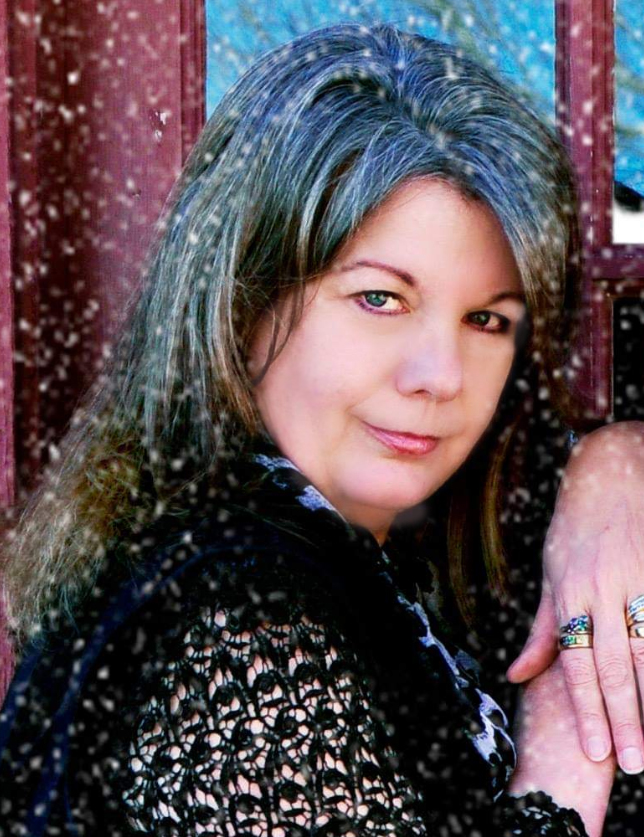 Jena spends her time researching her family tree as well as others. She travels, visits cemeteries and other historical places while gathering and collecting old photos, albums, scrapbooks and other pieces of memorable history to study and share. Jena is a retired teacher, has served as president with her local Historical Society, and maintains a community history page. She also loves photographing historical reenactments, cemeteries and historical places.