My Process for Researching Names on the Back of a Rescued Photo
Follow Me on Today's Search
This country wagon full of kids has intrigued me for some time now.
Was it a school group of kids that someone took a photo of?
Was it just a group of kids in town that jumped on the wagon with all their friends for the photo man?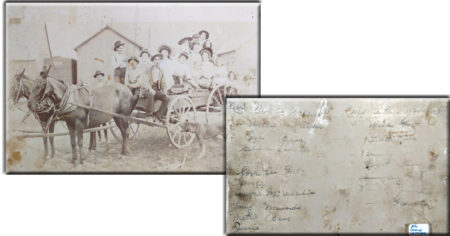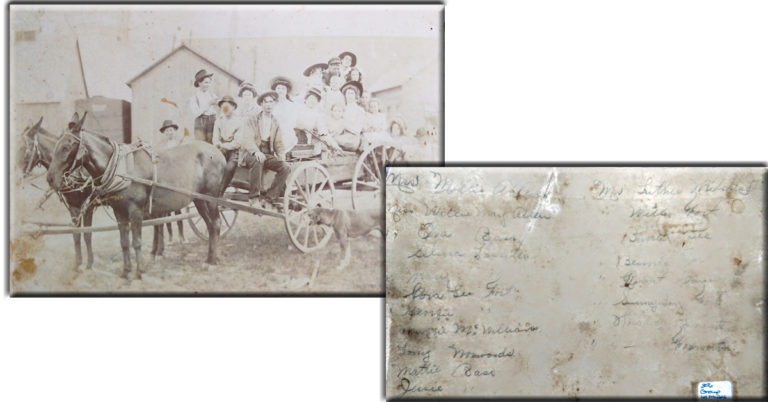 I had to darken the back, it was hard to read!
There is no date anywhere, but beautiful handwritten names on the back which I will show so you can get the idea of how I do the search for this entire group!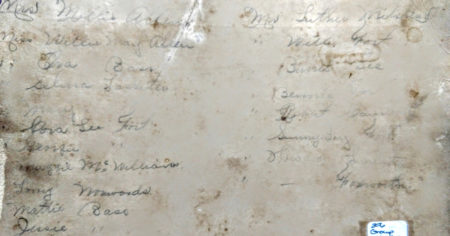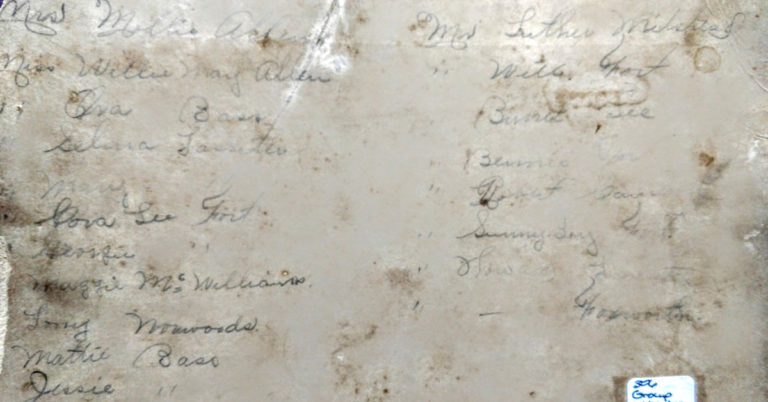 There are nineteen people listed on the back!
First there seems to be an adult married female and an adult man listed at the top. That would be a long shot at finding the correct person. I did try the man which should always be the first attempt at looking for someone.
Females change their name a great deal both first or last as well as nicknames. Especially with names children and grandchildren call them. I didn't get very far with that.
Hummmm… Now What to do?
My next thought! To pick a group of children with the same last name, the largest group. Then I would do a search for them. Easy, because they should all be listed together as a family in a census record. Now, the best tip of the day! One of those children needs a middle name, or even an initial so I have better odds of finding the right one, and there was. Thank you Miss Cora Lee Fort!
Once I found where Miss Cora lived with her family and was going to school, (because all the kids are school age) then I can search in that town. It will also help with finding the rest of the names and if some are hard to read I have a place to look for them to correct and make them out.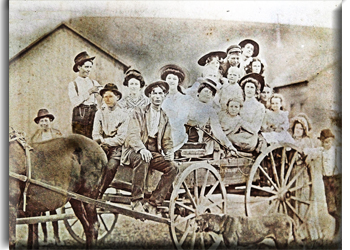 List of the names on the back of the photo the best I can make out:
Mrs. Mollie Allen (now I looked for an hour because I thought it was Aklen or Akien – why because there was a smug of some kind on the photo right on the second letter of her last name. By looking at it with a magnifying glass I could follow the pencil lead indention and made the decision it was Allen.) Then she did come up in the search.
Miss Willie May Allen (this could be her daughter I bet, or maybe a sister)
Well I have found her in Beaumont as a school teacher in the years 1938, 1940, 1943. It may not be her for sure but at least she is in the right town. Maybe I will find a connection later on.
While in the Presbyterian Church records I found a Mary Emma Allen born to Rev and Mrs F. L. Allen on February 8, 1893, and was baptized on August 30, 1893. I also found a Mrs. Annie M. Allen That was accepted to the church on April 12, 1891 by certificate.
There was a lot of information in the church book.
This has been interesting, and it gave me some more information. But not a great deal to connect the children in the photo together. None of the other children were in the church records so they were not riding to church together. Or at least I don't think so anyway.
The church had one pastor, named Frank Ernest Robbias that started on May 31, 1896 and he died on March 14, 1918.
Time for a break
Now, if you follow my writings any at all you know that when I get to a spot where I cannot find what I'm looking for, it is stop time. So I will be dropping this and coming back to it in a few days. Then I will move on to the Bass children and see if I can find anything there. The more pieces of the puzzle you find, the better chance you have of completing the story.
Miss Eva Bass (It's actually Ora Bass) I'm going to leave this here so everyone can see how things can be miss read. And how hard handwriting can be sometimes. Ora is a half sister to Luther Milstead.
Miss Selina Lasseter –
Miss Mary Lasseter (thank you to the magnifying glass I could see the ditto marks that other wise I would have missed. Because I just thought there was no last name on this one.)
Miss Cora Lee Fort – Cora was born in Aug. of 1890, and living in Beaumont on the 1900 census. I believe she got married on the 26th of Jan, 1910 in Jefferson County, Texas. Which is the county for Beaumont. She married Donald N. Corbett.
Miss Georgie Fort – Georgie was born in November 1893, and she was Baptized as Georgia Fort on January 19. Her mother was Letitia Fort and her father was W. L. Fort. This is the first thing that I have seen her mother's full name on. Everything has just been having initials.
Also on the same page of church records her sister is there and Miss Pearl Florence Fort was baptized on September 2nd, 1897 There is also a Benjamin Luster Fort that was baptized on Jan 22, 1897 (this could be the boy down below going by Bernie.)
This is all in the Presbyterian Church Records. Always keep looking when you find a good source. So I found some more, a Kenneth Fletcher Fort and this time it has the father as William L., so a little more information and Kenneth was baptized on July 8, 1900.
At this point I have decided to go through the entire book page by page to see if there is any other information on any of the families listed here or more on this family. Georgie's mother Mrs. Letitia Fort was and was admitted to the Church by certificate on March 22, 1891.
Well, no more of these children were ever discussed in the church book. So, now I do not think they were all on their way to church together. I guess it could be possible, but you would think there would at least be one or two out of the group named there as well.
So maybe I go back to the first thought which was that they were all in school together. Maybe they all road to and from school together each day. I hope we can find out some more.
Miss Maggie McWilliams
Miss Lony Norwoods
Miss Mattie Bass – I found a 1900 census that had a Mattie and Jessie Bass on it together but they were living in Tyler, Texas which is three and a half hours away from Beaumont. If they were visiting, maybe they are all cousins. I guess the could be family in any sort of way but this is the only thing I have found even close. There was no Eva Bass on there but she could be from another family member I guess or already out of the house and the others came to see her maybe.
That was a totally different two girls. Mattie, Jessie Ora Bass are half sisters to Luther Milstead.
Miss Jessie Bass – Jessie is a sister to Ora and Mattie Bass and half brother to Luther Milstead.
Now for all the guys listed
Mr. Luther Milstead
Yea! I finally found you! His mother was M. E. Bass. He registered for Draft on September 9, 1918 in Orange County, Texas. He had brown eyes and Black hair. He was of medium height and build and had had a fractured are at some point before this day. His address at the time was Kirbyville, Jasper, Texas.
He was born February 18, 1883, and is thirty five now in 1918. His full name is Madison Luther Milstead, and he had been working as a drug store clerk. When he died he had been living back in Beaumont for seventeen years and was 80 years old. He died on December 24, 1963. He was married to M. Louise Milstead. The are living in Port Author, Tx. His mother's name was M. E. Bass. His father is Allen Milstead. Luther is buried in the Kirbyville City Cemetery. He had been working as a collector for White House Dry Goods.
Well this is just sad! So many unmarked graves. The death record tells me where he is supposed to be buried at but there is nothing on FindAGrave. They have several unknowns, so maybe I will have to make a trip by there the next time I'm down that direction. I also added his name to findagrave at this cemetery because all information points to him being there somewhere. Maybe that will also spark something that someone else sees and helps find his eternal spot.
More on Luther further down the article.
Mr. Willie Fort – Willie is a brother to Bennie, Cora, and Georgie. Also Sunny Boy, and I am totally unsure of his real name at this point.
Mr. Burred Lee
Mr. Bennie Fort – Bennie is a brother to Cora, Georgia, and Sunny Boy. On the back of the photo this also looked like Bernie to me. That slowed down the search when trying to use his name by itself to find the others. That is why I keep bouncing back and forth to different people till I find something that connects them. And always take the spelling of the names with a grain of salt. They can and will always change.
Mr. Robert Carver
Mr. Sunny Boy Fort – Sunny Boy is the youngest and baby brother to Willie, Bennie, Georgia, and Sunny Boy Fort.
Mr. Howard Lasseter (If you look at the picture, this first letter is hard to make out and there are no other letters like it on the image to use to compare and the last name is pretty much a guess, most of it has been rubbed off. Pencil is hard because if they write really light it rubs off. They have to write hard enough for it it indent sometimes for me to make it out.)
Mr. Foxworth and there is no first name just a dash.
So Now on with my hunt.
All of the boys started with Mr. so my search for a grown man at the beginning with Luther could have messed everything up. This could also be a child. So maybe now I can move forward with the idea that it is still a school group and that Mrs Millie Allen is their teacher. When I look really close it seems there are two older ladies. The one holding the youngest blond headed boy and the one right in front of them leaning way over to the side. So one is maybe not married and hence the Miss before her name. It's just a guess!
I found the Fort family
I found Miss Cora Lee Fort and her family in Beaumont, Texas so now I can just do a search in that town for the rest of the children and their families and see if I can find out something about Mrs. Millie Allen to see if she is a school teacher.
This is so much fun, I get the biggest smile when I discover each and every little clue.
Tip for using the newspaper.com search…. whatever you type in it looks for each and every word as a single word. Try putting quotation marks around different groups of words to find what you are looking for. I wanted to keep my search just to Beaumont, Texas so the quotation marks were around Beaumont, Texas so I did not get a million hits on just the word Texas. And as always I find some really interesting reading while I'm searching for my research project of the day. Today I found a good one, I'll be back with it on another day.
So, that is not going as fast as I thought it would. I will move on to some other ideas. It seems Beaumont was very large and had a large school even in the early 1900s so I'm off to look up Beaumont, Texas history now to see what I can come up with there.
A Little Beaumont History to Help Out!
It looks like Beaumont was founded in 1835, and they had a rice-mill and raised rice around their town. They also had some cattle ranchers and farmers. The population grew with immigrants and others that migrated looking for work in the growing town. Oil was discovered nearby and brought in more growth as it tripled in size in only two months in 1901.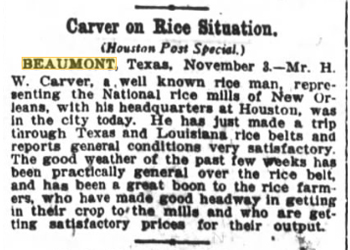 The town itself was named after a woman by the name of Mary Beaumont and officially became a town in 1838. In the very early years it was cattle and farmers. There is a great history of the Spindletop oil gusher of 1901 that helped lead to the booming population. You can read more on it by following the link at the bottom of this story.
So I have read through several pages of Beaumont history and have not found much on the older schools or anything that would resemble the image in the photo if I was to take the children and wagon out of the photo and concentrate on the surroundings.
Dating the Photo
In a 1900 census I found the Fort children, Willie at an approximate age of 13, Bennie at 11, Cora at 9, Georgie at 6 and a baby at the age of 2. But this looks like it was changed to a 1 after it was written. So Lettie is not in the photo, so she is older and doing something else. And if the baby is "Sunny Boy", then the photo was taken some time after 1901 or 1902.
If I say that Sunny Boy is approximately age 5 in the photo we can date the photo at approximately 1904 or 1905. That gives me a better window for finding out about the picture and it's story because I have been having trouble finding a school article or a teacher article on Mrs. Millie Allen up to this point.
Well, back to the old drawing board!
Back to searching for the children. This time I have used just Beaumont, Texas and the 1900's to see if I can connect some dots. Yep, everyone makes mistakes! I have been looking for Mrs. "Millie" Allen this whole time up until now.
I was having trouble, things just were not clicking together, so I will take another look at the photo and yes sir, I was wrong. So I have gone back up to the top and fixed her name (Mollie) and I have now found the correct person.
I'm giving up on Mrs. Mollie Allen for now. I'll try Miss Willie May Allen and see if I can find a connection.
Why? Because there is a middle name, that helps narrow things down.
After going back and forth for a week now I finally made a huge breakthrough! Number one I had Eva Bass at the top of the list and it is Ora Bass, I will be going back up and changing her name. Just goes to show that you need to change things up, and that my special education background failed me on that one but it's going to be alright! Because I found it and that is all that matters. Good thing some of them were brothers and sisters to help with the search.
This photo has been pure determination!
So I was all excited last night when all this fell into place, then we had a really bad storm hit and I had to turn everything off. But with writing down possible dates of when things could have happened I narrowed the search down a great deal. First, Luther's draft enrollment and death certificates had some clues. His father's name was Allen Milstead. On his draft papers he put his mothers name as Martha Bass. Yea! I was all kinds of excited. So I start looking to see if there is anyone that would fix with the maiden name as Bass. That fell through. I just could not make anything fit.
On to the next drawing board!
Three days of searches for all the people and families with the surname "Bass" in all surrounding towns. I found several. The I went back through all the census records again looking through every on named "Bass" in several of the surrounding town. Still nothing coming up. So I go through all the photos on ancestry.com under "Bass". I happen to run across a photo of a "Mattie Bass". Hallelujah! When someone has a photo, then someone on that LIMB of the tree knows something.
Little Tip
Look at everything, don't just trust that the other tree is perfect. I do hidden trees and save a great deal of research in order to compare times, dates and names. The photo I clicked on was saved to a tree, but had no evidence. That person was just saving it. That's ok. There could be a reason. It is that person's tree and I'm good with that. BUT if you look at the photo there is a place to click and that states the original owner or person that loaded the photo. That is the person I followed links to so I could see what she had and if anything clicked with the information I had.
She had that one little limb figured out. Usually because that photo was passed down and was in a family members hand. And usually that information is correct. She had all the brothers and sisters listed. Some were out of order. But that is what happens when you just don't have all the information needed to put the puzzle together. Luther is much older than the rest of his half siblings and if you don't figure out that his mother had remarried it can be hard to put together or even know what to search for.
Another piece of the puzzle
Luther's mother was not Bass. It was not her maiden name, That solved a great number of questions. Martha's maiden name was Risinger. Some trees had this surname, some had Bass and one had Milstead. Sometimes you just have to sort through all the pieces of the puzzle in the center of the table and work on the edges. I had to take a piece of paper and drawn lines to time dates. I went around the edge of the paper and wrote facts. I had to have it all on one piece of paper to figure it all out. Then I finally found a census with enough of the facts on it to confirm that my information was in fact going to work.
Luther, Ora, Mittie and Jessie Bass are all half siblings.
That is four of the people in the photo identified. Luther gets married to his wife Louise in 1919. I don't believe she is in the photo, even though I kept wanting to believe this was a wedding photo because the girl right behind hind him has on a really white looking dress. The girls all seems to be dress really nice like that were attending something special.
I'm not done yet!
Luther's draft card stating his mother was M. E. Bass was signed on September 9, 1918. She his mother had remarried before that. That helped me look for her under the surname Bass. I found an older son named Frank Milstead with proof he is Luther's brother on a census and their father named Allen Milsted. Next I'm going to see what happen to Frank and his father Allen. Luther's mother remarried sometime between 1883 and 1886. Something may have happened. I also keep reading about quarantine areas all during these times as I read the papers from back then.
Why do I keep looking?
Because there are nineteen people in this photo. They all have names. If I can just pinpoint a few more details then there are family trees out there that can put a face to some of their family. I am pretty sure the very first person closest to the viewer, sitting on the corner of the wagon in front is Luther. That is why I keep working around him for dates. On his draft papers it tells a lot of detail like the color of his hair being black. But he is also the oldest on the census where all the Bass children are on one together. I could be wrong. I will have to find the rest of the children and put ages and dates all side by side to figure out how is how exactly.
The two girls right behind the boy that I think is Luther could be Ora Ball and Jessie Bass. They are close in age and only five and seven years between them. There is a Bass girl missing from the photo. Amanda Bass born one year right before Ora. If I can find her maybe it will help with another possible date selection for the photo.
We shall see what else I can find.
Resources and links:
https://en.wikipedia.org/wiki/Beaumont,_Texas
https://tshaonline.org/handbook/online/articles/hdb02
Ancestry. com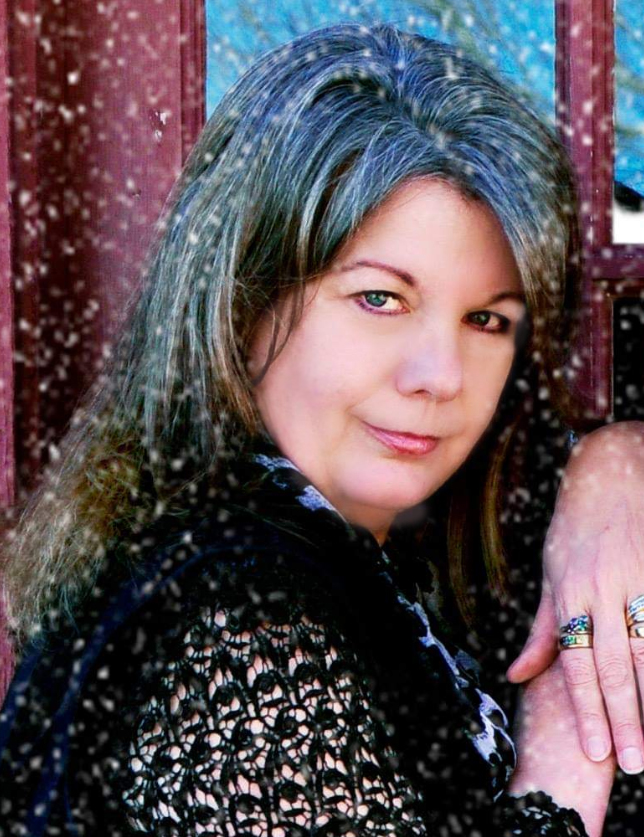 Jena spends her time researching her family tree as well as others. She travels, visits cemeteries and other historical places while gathering and collecting old photos, albums, scrapbooks and other pieces of memorable history to study and share. Jena is a retired teacher, has served as president with her local Historical Society, and maintains a community history page. She also loves photographing historical reenactments, cemeteries and historical places.