Rescued photos of Portraits
In this page, I put together a number of photos I found of people taking photos of themselves.
This page also includes some old cabinet cards from the late 1800's.
With a little research, we put together information about what we knew about these people in the hopes that someone may do a Google search and find a lost family photo.
Lorenzo Fulton
Lovely couple, the photo was taken in Breckenridge, Texas. The photography studio is E. H. Webb. Lorenzo's name is written on the back.
It is a great probability is that this is Lorenzo Dow Fulton and his wife Ida M. Fulton somewhere between 1920 and 1930. I did find them living in Stephens, County, Breckenridge, Texas.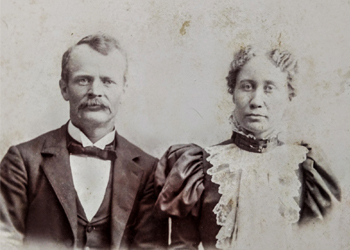 Mary Ida Fulton
Sometimes I think everything is so crazy meshed together. I looked at some of their history and Paris, Texas came up as well as Breckenridge where it looked like they live most of their lives. My grandmother would have been going "Oh I bet we know them!" Lorenzo I believe was married once before Ida.
In some places she is known as Mary Ida and others it is Ida M., that is why you always look into everything. I save everything I possible can until I decide for sure if things fit together because you just never know. One census that year these two were on was not even readable. I don't know how anyone decided what it said it was so bad. That is when you have to look at everything all around to see if you can piece it all together.
Pieper / Busboom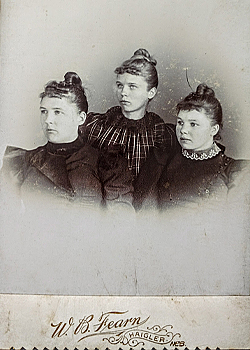 These are the daughters of Thomas and Henrietta (Pieper) Bushboom. An old cabinet card marked W. b. Fearn of Haigler Nebraska.
J. N. and J.M. Marks… I wonder if they are twins?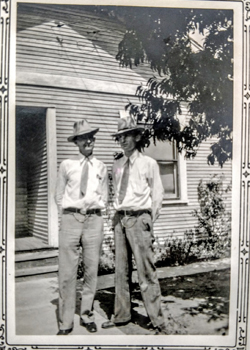 This photo was found around Lubbock, Texas. It has J.N. and J.M. Marks on the back. I did find a J. N. Marks that had lived close to Lubbock, in one of the surrounding towns so this could be correct. The writing on the back makes the "r" in Marks look like an "e" but that seems unlikely.
Also nothing like that came up in a search. We will watch for corrections on this one. It will an ongoing search because I have several photo from this same group of photos that came in a photo album.
This could possible be James Noble Marks but I would have to do some extensive research to know for sure. I do know there is a Lamesa, Texas connection somehow. It is also written on the back of the photo along with the date 1931.
Squyres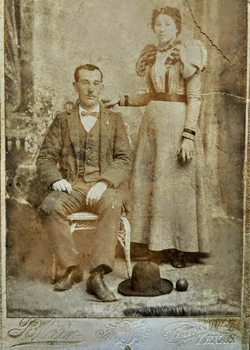 I love old cabinet cards, but you have to be very careful with them. They can crumble, crack and break very easily. This one was taken at the W. J. Blair studio in Gatesville, Texas. There is no date on the back but cabinet cards have been around since the 1860's.
They were first introduced in England and then appeared in the United States around the middle of the 1970's. Colors and styles changed during the years and the darker the card tells the age of being from around 1885 to 1895.
This cabinet card of Wiley Squyres and his wife is taken in Texas so they could have lived around the area. Gatesville is the county seat for Coryell County. It is located west of Waco, Texas.
There is a link at the bottom for the history of Gatesville which is an awesome read. It was named after U. S. Army Major G. R. Gates and was an established fort set up for Indian protection. The railroad came through in 1882 so I'm sure with things growing a photographer could have set up his business soon after to the first in town doing the photos.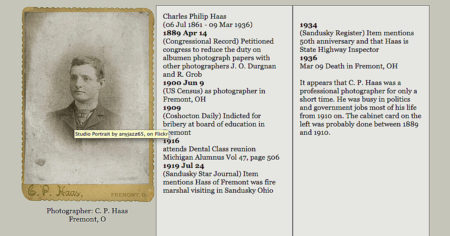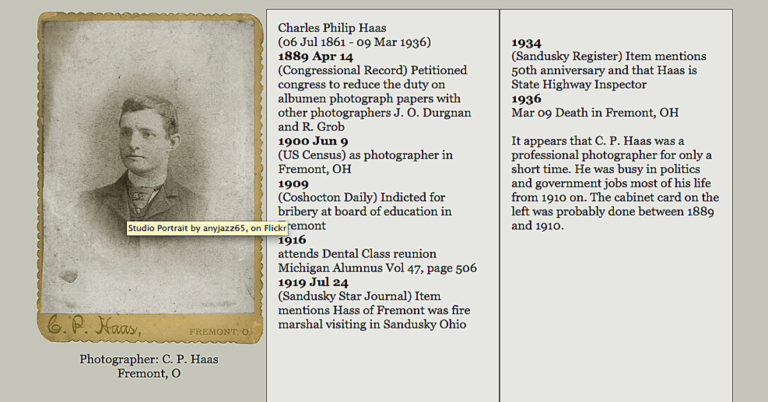 I love finding new things and pages to help discover the age of the photos. The photo from above is from a page on the web and I will share the link. You can discover information about all of the photographers from the cabinet card age.
It looked like a very informative site. It seems to be a dead site and you can click from inside it to go to a new site for more information. But it still intrigued me!
https://lostgallery.blogspot.com/2016/12/cabinet-card-photographers-of-19thh.html
I could not find anything out about this Blair photographer there but I will keep looking.
Well, I have been to several sites now and still know nothing about this photography studio, but I did not know that some of these cabinet cards sold for so much!
Wow, this was crazy! I never thought of the cabinet card selling just because it was a cabinet card, it seems there are those out there that collect them. Another thing for an Ebay search.
These little ones are so cute. Are they Boys or Girls?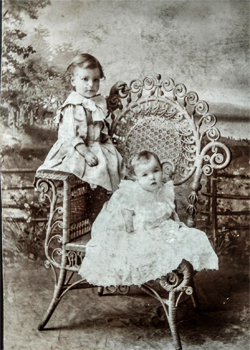 These days all the boys would be having a fit, wanting to know why their mother dressed them up in a girls dress. But this happened a great deal in the older photos and at times it is very hard to know it they were boys or girls.
And this cabinet card that has been cut to fit in a frame so there is no way of knowing where it was taken or by what photographer. So the only thing available to go on, is the writing on the back which suggest they are both boys. It reads "Ray at 5 months old and Fred at 22 months old."
Busboom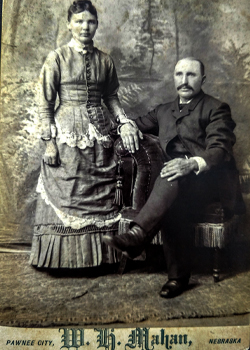 Here is another cabinet card from what looks like M H Mahan and the studio was in Pawnee City, Nebraska. I did not get a search result on his studio so it seems this could be something that needs some work as well. We know it was taken there and the names on the back read, " George Busboom and Maggie Tinderlake, married on August 4th of 1886."
Gearhard
This cabinet card taken by the L. Gamer Studio in Omaha, Nebraska even has the address of the company on it. It was located at the corner of 16th and Vinton Streets. On the back all that is written is Peter Gearhard. This surname has changed over the years and has many variations online, so this may be wrong. But it is what is written on the back with no question.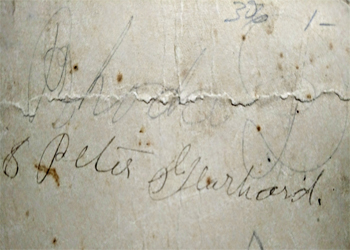 Busboom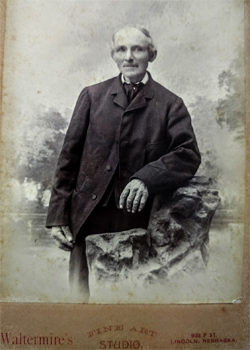 Wow, someone did good and wrote a lot on the back of this one. Mr. Behrend Heinrich Busboom was born on January 28th in 1917 in Filsum, Ostfriesland, Germany. His photo on this cabinet card was taken at Waltermire's Fine Art Studio of 938 P Street Lincoln, Nebraska.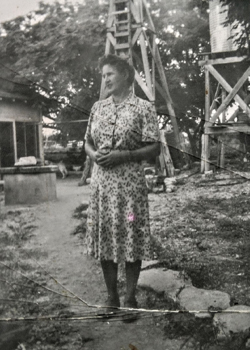 Aunt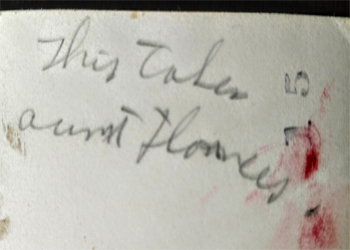 At first I thought the name started with a T or F, now I don't know. It could even be an H. Someone will recognize her and things will all fall into place I'm sure. Maybe is is Aunt Florence?
Marks / Lindley
This photo has J. N. (Noble) and B W. (Thallie ?) Lindley. If you look above you see Noble in a photo and another man. He seems to be the one on the left in both pictures. The other two have different names on each of the photos and they look the same to me. This is the same house, but they were taken at different times. Noble looks younger in this photo, but that is just a guess.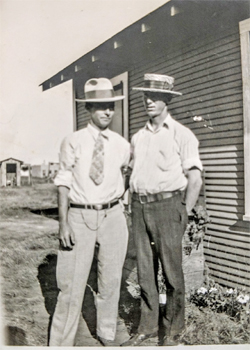 Wilson and Rita Butler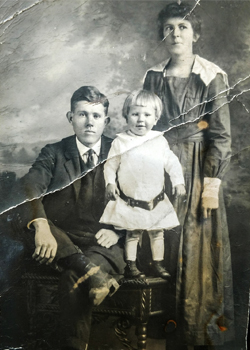 They look so young. The young boy is Samuel Preston Butler standing with them. My guess would be that he is around a year old or maybe a little older.
Squyres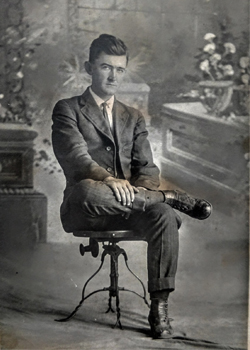 I put Squyres on this because the same person wrote the names. They made the letters the same way, and with the same pen but it is really unreadable on the last name. His first name is Bill and the middle name looks like Samuel. The back looks like it has been wet at some point and causes some trouble when making out the letters.
Felix Hughes
This is a large glass framed set of photos of this baby. It also has a name plate shown inset in the bottom of the frame. It reads "Felix Kimball Hughes, born August 24, 1907."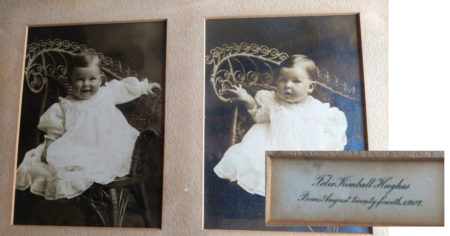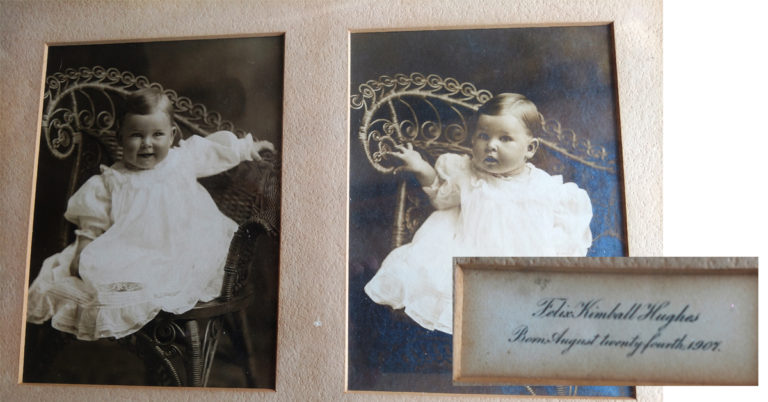 This photo has Delmar, Hazel and Raymond wrote across the top and the date of 1938 and Oklahoma City Oklahoma on bottom.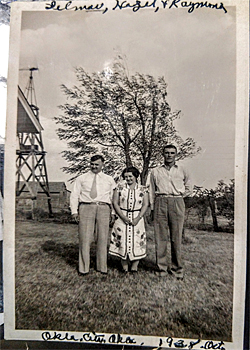 Grace Erbentruth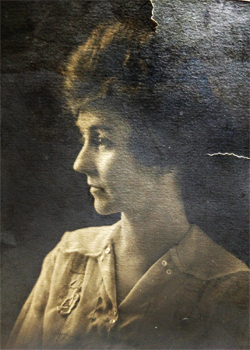 I have no other information on Grace Erbentruth right now but I can always come back to her.
Upshaw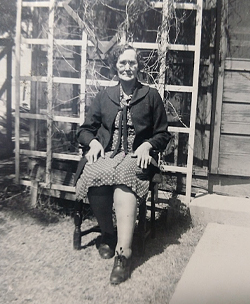 This is Eard Upshaw's mother
This is from one of the rescued photo albums and was found at one of the antique stores around Lubbock, Texas. One couple is Nora and Delmer Upshaw in the album. I believe her name is Birdie, or at least maybe that is a nickname. But, that is what seems to be used the most everywhere. She was born in Oklahoma in about 1920 and had several children. Her husband was W H Upshaw and you can find more on the Upshaw family in some of the other stories.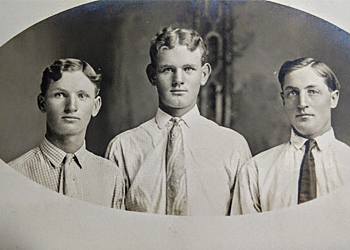 Uncle Johnnie McClay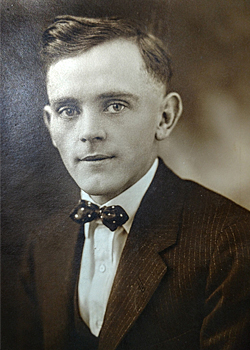 Giles Cousins and Uncle Hugh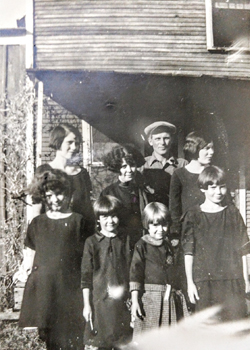 That's a lot of girls! On the is written front row: Mary Virginia, Flossie and Hazel. The back row is Clarissa, Vessa, Faye and then Uncle Hugh.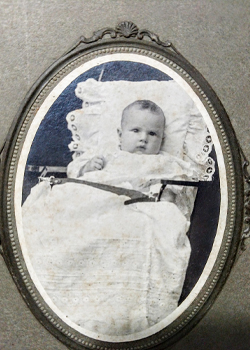 Velma Richard is all that is on the back of this cabinet card. There is not even a Studio name or anything else at all on this one.
Monnie Slavin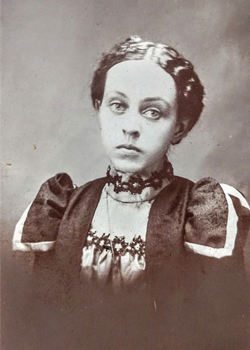 SlavinThis is another very nice cabinet card but there is not studio information at on the card.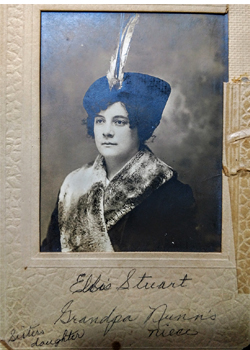 This looks like Ellis Stuart, it also says Grandpa Nunn's niece.
This one is a cabinet card and all is says is Lillie A. This could be someone in the photo or someone that the photo was sent to.
Evilyn
This one has "Taken at Mrs Zurline's by Helen Zurline on May 2, 1934 in Oklahoma City, Oklahoma" written on the back of a large one. There is also a smaller one as well.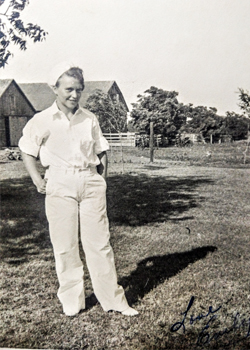 Reuben Ambler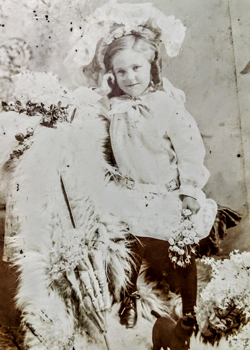 Opal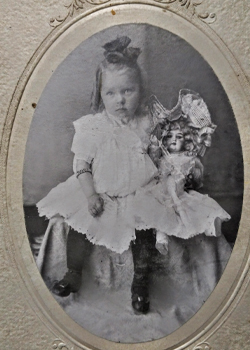 Wow, I thought this one on Reuben would be a easy on to look up! Nope. Not at all, so many with this name and I automatically think it is a girl and just about every search brought it up as a mans name. This one could be some real work to connect to someone unless there are other photos somewhere with the same person in them for a comparison.
Violet Richardson – Post Card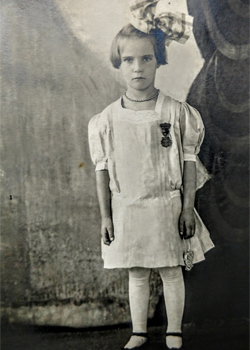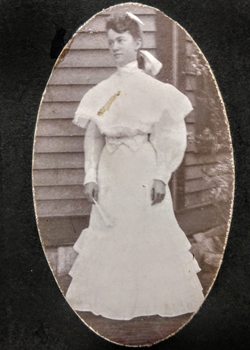 Giles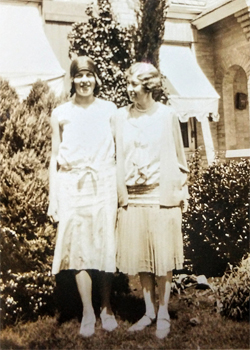 This one has Taken in 1930 at "Ben Giles out land." It has one name on it, so maybe one of the girls is Rosalind.
Happy hunting and remember the spelling and names could be different. The grandmother or aunt that wrote on the back could have got it a little wrong. Things like that just happen! So always take everything with a grain of salt.
Resources and links:
https://lostgallery.blogspot.com/2016/12/cabinet-card-photographers-of-19thh.html
https://www.ci.gatesville.tx.us/index.asp?Type=B_BASIC&SEC=%7B428929A2-F996-4210-BADF-521E7BB272D5%7D
https://historictexas.net/coryell-county/gatesville-texas/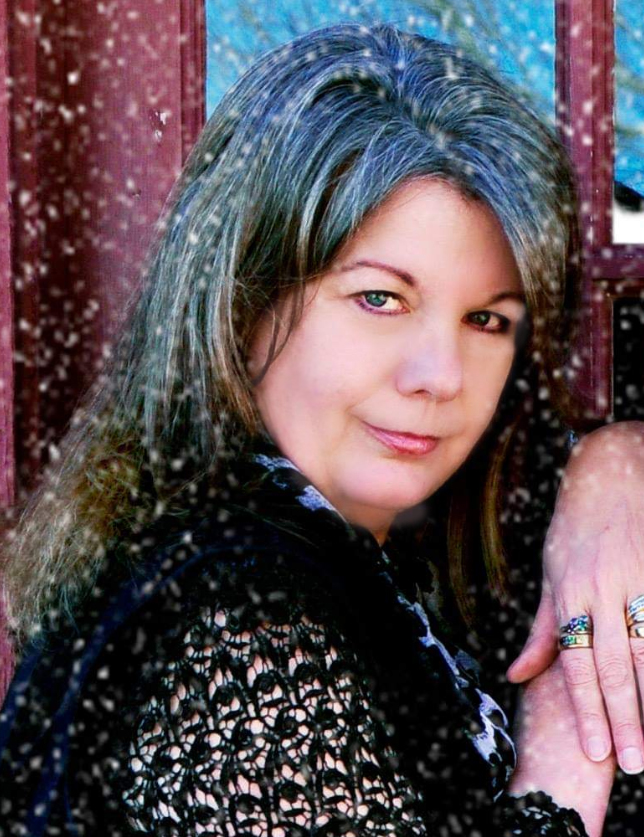 Jena spends her time researching her family tree as well as others. She travels, visits cemeteries and other historical places while gathering and collecting old photos, albums, scrapbooks and other pieces of memorable history to study and share. Jena is a retired teacher, has served as president with her local Historical Society, and maintains a community history page. She also loves photographing historical reenactments, cemeteries and historical places.