Fantastic Rescued Photos and The Stories Discovered
Well is he not cute? Can you find the man? The second person in the photo is a man in a large bonnet! Maybe that mineral water is so youthful, it is his old baby bonnet. This photo of six has no names or dates, but it is to good not to share.
The stamp on the photo says "[sic] A Photographic souvenir from Mineral Wells, the Great Health and Pleasure Resort of Texas." The back is inked with an advertisement from the T and P Railway (Texas Pacific).
There is also an inked mark of the photographic "Mountain and Donkey Groups". The Fine Jericho Photo Company. This is a very large print on a mat.
Pretty Scary looking on the side of the Mountain!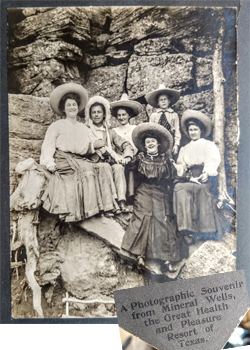 The poor lady in the dark dress looks like she is about to slide down the rocks. If you look at the bottom you can see where they had to climb up a little makeshift ladder.
The mineral well water was famous for its medicinal qualities after is was said to cure rheumatism. This played a major part in the growth of the town. I think I may need to get me some of the "Crazy Water".
Mineral Wells Crazy Water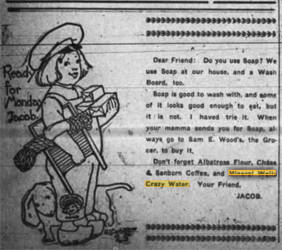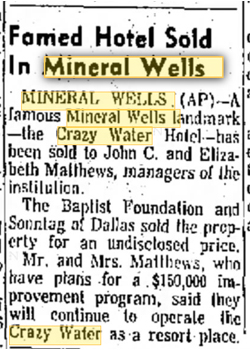 I also found an add from the Marshall Messenger of Marshall, Texas dated April 10, 1907 about the Mineral Wells, Crazy Water.
John William McAnally
The Beautiful Box – Full of Photos and Paperwork!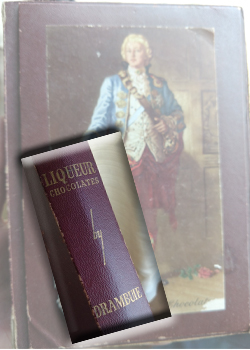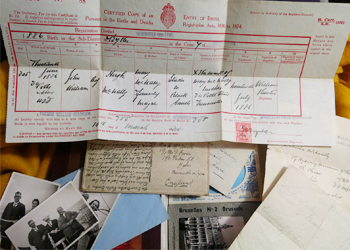 What a cute little box, when I first saw it I thought it was a cigar box. As I looked closer it turned out to be a candy box. Full of old records, papers and photos. And everything starts in England. Did they move here? Someone had to I would think for the little box to end up here. I can not even remember where I picked this one up at. It was before I started writing on all the zip bags of collections. I learned quick to make note of everything!
Where? What? Beautiful Old Paperwork!
On top was a beautiful original birth certificate belonging to John William McAnally dated the 13th of June, 1886, Newcastle-Upon-Tyne. Born to Hugh and Mary McAnally.
The Everton Grange
Next is a very large third class (steerage) passenger ticket made out to John McAnally age 24 and dated for the 20 day of June 1911. The cost? Sixteen dollars! The ship was the Everton Grange traveling from Liverpool to Sydney Australia. According to the ship voyages it went to Port Adelaide.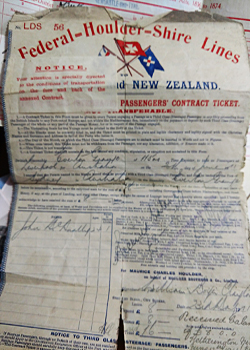 The old photos of the ships on the site in resources listed below are absolutely striking! It looks like the Everton Grange left Liverpool with 215 passengers and pulled into the Adelaide on August the 8th, 1911 where forty passengers disembarked.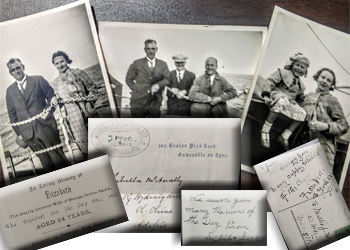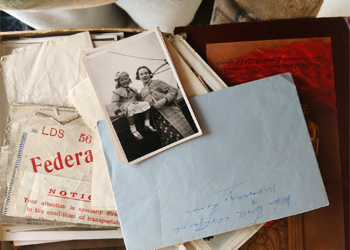 Resources: http://passengersinhistory.sa.gov.au/node/993236
Photos and paperwork in my personal collection – Jena Hamilton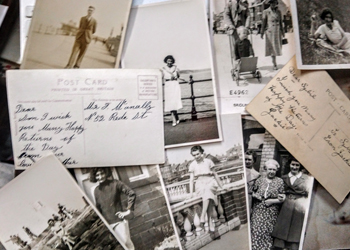 Bibles Can be Full of Information
Here I have two Bibles from the same house. This first page states the Bible was presented to Eva B. Marts from Harvey Marts for a 59th Wedding Anniversary. Dated December 28th, 1979. It is possible that Eva was born in Austria and came to the U. S. in 1914. In 1930 she was living in New Jersey and that matches a family members death and burial on one of the pages.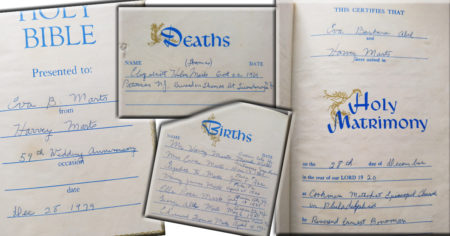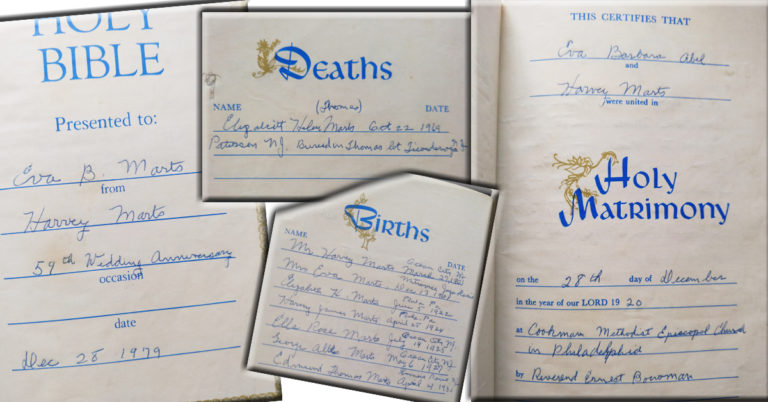 The birth page states that Harvey was born in Ocean city, New Jersey on March 27, 1901. Eva was born December 13th 1901. The birth record in the Bible states that Eva was born Mtovieo, Yugoslavia. (TIP *** that was fun to translate. I typed into Google and just kept changing the letters. That way it helped me understand where Eva came from. Plus I blew it up as large as I could to work on the letters). In the 1930s the census has her from Austria and speaking German. So everything fits and I have the correct person. The 1940 census has the same information, correct family and had Yugoslavia as her native country.
More Births Listed
Other names on the birth page are:
* Elizabeth H. Marts born in Pennsylvania on June 5th, 1922, Harvey James Marts born in Pennsylvania on April 28th, 1924
*Ella Rose Marts born Ocean City, New Jersey on July 14th 1925
*George Alle (not sure of middle name, on one page it looks like it should be Albe) Marts born Ocean City, New Jersey on May 6th, 1927
*Edmund Thomas Marts born Somers Point, New Jersey.
Eva Barbara Able and Harvey Marts
Were Married on the 28th day of December 1920. They were married at the Cookman Methodist Episcopal Church by a Reverend Ernest Bowman. I finally figured out under deaths is the first daughter. It reads Elizabeth Helen Marts Thomas, died October 22nd, 1969 Paterson, New Jersey. Buried in Thomas lot Ticonderoga, New Jersey.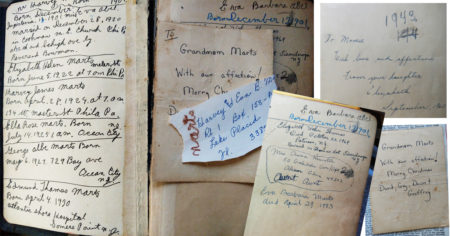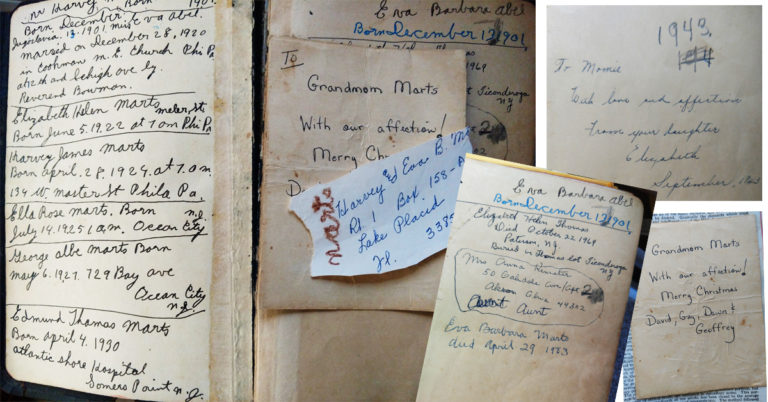 Yellowstone National Park
This photo is from the 1950's at the entrance to Yellowstone National Park. This one is from my families trip, my grandparents, but I just love the old cars. Their names were Mary Lou and Bob Hamilton. I'm so thankful they left so many great photos for me to enjoy!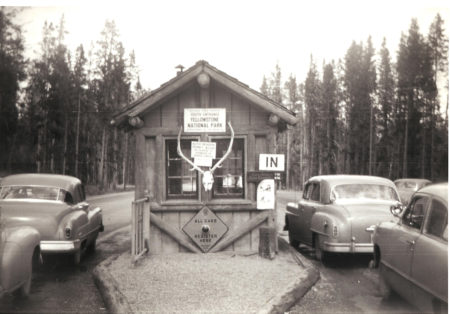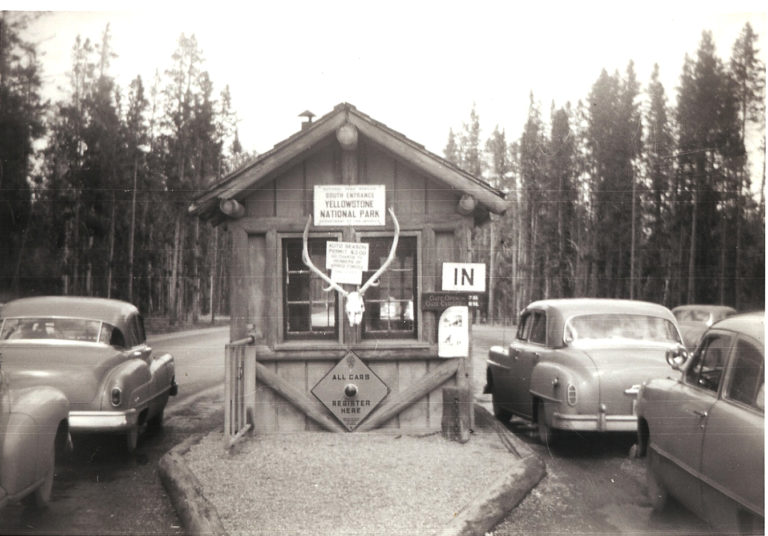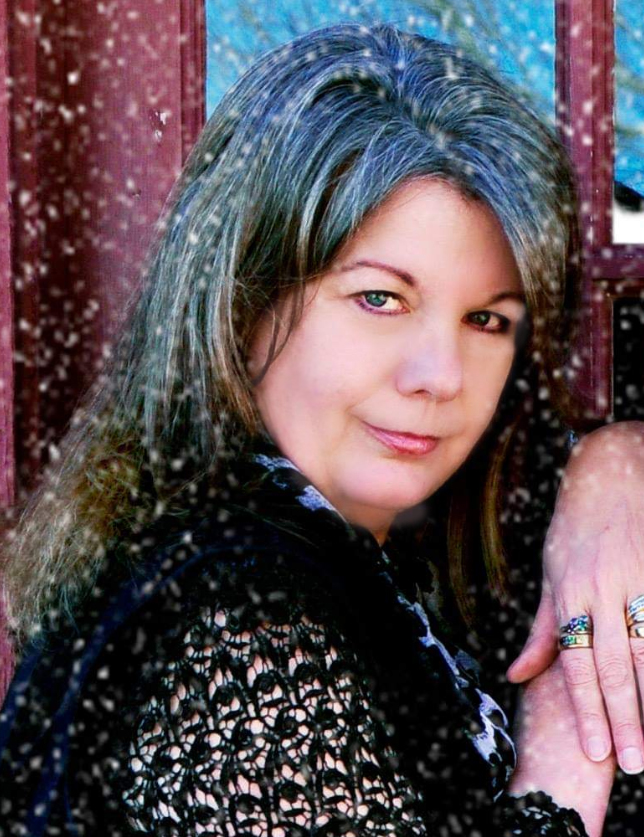 Jena spends her time researching her family tree as well as others. She travels, visits cemeteries and other historical places while gathering and collecting old photos, albums, scrapbooks and other pieces of memorable history to study and share. Jena is a retired teacher, has served as president with her local Historical Society, and maintains a community history page. She also loves photographing historical reenactments, cemeteries and historical places.